Match Report | BAFA NL '19 – Tigers vs Roughnecks
The Glasgow Tigers claimed their third win of the season with a home victory against a sturdy Aberdeen side who made the home side work hard for every yard.
For those who remember past battles between these two sides, there was never much to separate the sides and this game would prove to be no different.
On their opening offensive play a pass bounced off the hands of a Tigers receiver, landing straight into the waiting arms of Aberdeen's Gamuchirai Mukuredzi to give the visitors great field position. The Glasgow defence held firm, forcing the Roughnecks to go for it on a short 4th down and coming up big to prevent points from the turnover.
Starting inside their own 20,the Tigers put together a long drive powered forward by running from their talented stable of running backs. Mo Adams, Toby Jeffreys and Blake Kyle led the way before Steven Williamson ran it in from nine yards out for his first TD of the year. A successful point after from Jason Maclean made it 7-0 Tigers.
Roughnecks QB Rhys Elmslie kept his side moving with several key runs for first downs, but the Tigers defence again held firm and forced the visitors to punt after Ryan Cassidy and Paul Polson both sacked the Aberdeen QB. game was providing some yards with Quarterback Rhys Elmslie keeping his team moving with several important runs for first downs.
The drive finally stalled out when Benedict Boehnenm, in his first game of the season, blocked a field goal attempt from 38 yards out to send the Tigers into the half with the 7-0 lead intact.
Going into the second half, the Roughnecks changed things up at QB. With Chris Breen now under Centre, he took charge of the offence and found Rhys Elmslie – first half QB turned second half receiver – in the endzone with a 30 yard pass. Tigers cornerback Ryan Campbell blocked the PAT – a block that would prove crucial as it left the score at 7-6.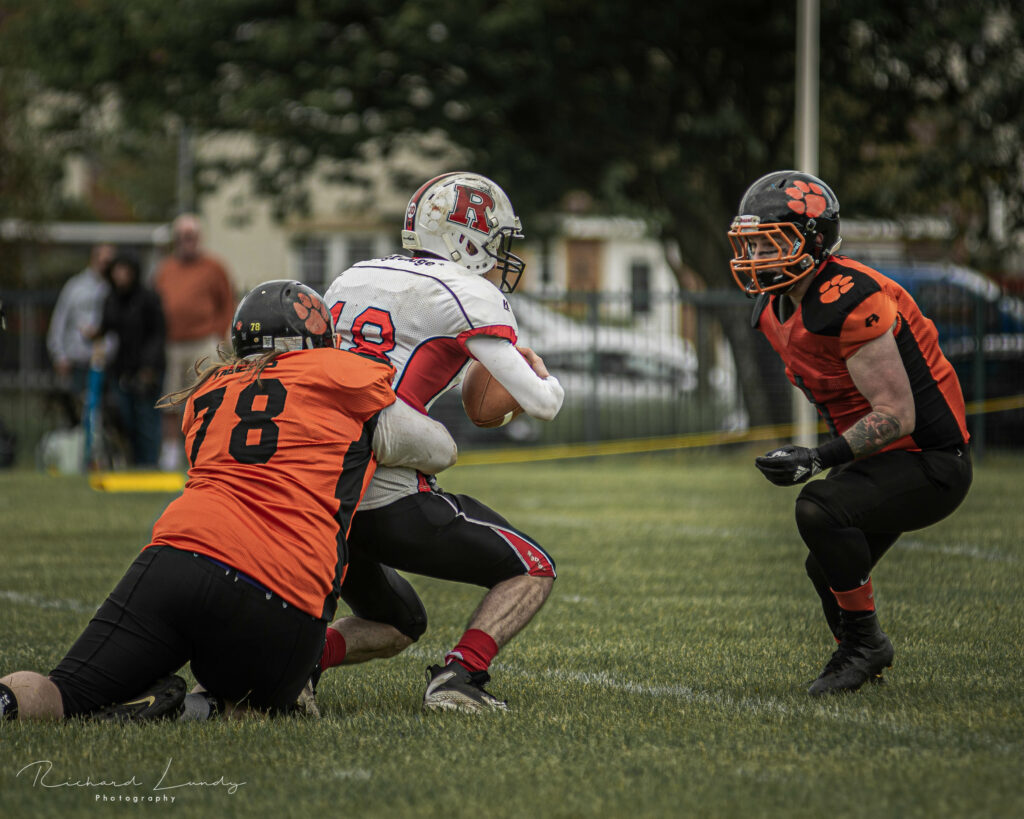 With the game on a knife-edge, the Tigers stout defence again came up big to deny the Roughnecks. First, Ryan Cassidy intercepted a pass before the Roughnecks won the ball back off a Tigers fumble. Before the Aberdeen side could make it count, Tigers safety Scott McIntosh made his experience count with another key interception.
This turnover would lead to points for the Tigers, finally able to extend the lead after QB Jig McCoy tucked the ball in and ran 18 yards for the score. The PAT from Maclean was pushed narrowly wide, leaving the score 13-6 to the home side.
Learn about the nailbiting climactic final quarter at GlasgowTigersFootball.com
Comments
comments