NFL Changes Celebration Rules
As we outlined in our review of likely NFL rule changes back in March, today the NFL have made some changes to the rules on celebration penalties.
Whilst excessive celebrations could still draw a penalty, or in extreme cases, an ejection, the league intend being less strict in 2017 than in previous years.
The league owners meeting in Chicago this week voted to refine the restrictions on player celebrations. There will still be some who consider the NFL stands for the "no fun league", however, this should go some way towards finding the correct balance where celebrations don't take over.
"We know that you love the spontaneous displays of emotion that come after a spectacular touchdown. And players have told us they want more freedom to be able to express themselves and celebrate their athletic achievements."- NFL Commissioner Roger Goodell
Goodell added that "offensive demonstrations" or celebrations that delay the game or are directed at an opponent will still be penalised in an effort to promote "sportsmanship, clean competition, and setting good examples for young athletes".
Goodell says using the ball as a prop, going to the ground to celebrate (dance, snow angels, etc.) and group celebrations are allowed. He cautioned that the officials can flag celebrations if they warn players to take it to the sideline, but the celebration continues and delays spotting the ball for the next play.
Outgoing senior vice-president of officiating Dean Blandino said there were 30 celebration fouls in over 40,000 plays in 2016. Unfortunately, with judgement calls, there will be times when the officials appear to come down too heavily or appear inconsistent. A bow-and-arrow was ruled a 'weaponry allusion' in one game, a snow angel was a flag in one stadium where a player went to the ground, but not in another because the scoring player was already on the ground.  Dunking the goalposts was made illegal because of safety issues, but the same rule ensnared a fadeaway jumper.
As Dean Blandino outlined to Double Coverage ""We are in the process of looking at different celebrations with the goal of providing more clarity to the players and game officials as to what is and isn't legal."
As a result of that process the league today showed a few examples of acceptable celebrations.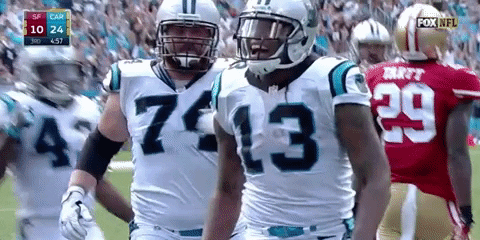 Above: Using the football as a prop, Celebrating on the ground and Group demonstrations.
The league never showed us the examples of plays they consider unacceptable, however here are a couple for balance.
Above: Using an external prop and … well you know what this will lead to!!!
Officials will still flag players for unsportsmanlike acts such as a throat slash, machine-gun salute or sexually suggestive gestures.
In his statement, Goodell commented: "Other acts of taunting directed at an opponent are expected to stay illegal, such as standing over a player or spiking the ball at a player. While these may seem to be a "part of the game," these actions make it unnecessarily more difficult for the officials as teams will engage in a tit-for-tat battle for three hours."
Of course, the official's attention to the finer details of what is and what isn't a foul has drawn the attention of comics over the years.
Let us know what you think should be clamped down on in Britball.
Comments
comments