Power Rankings | BAFA NL Adult Division One: Week Four
Power Rankings are here once again following an exciting Week Three!
And, as noted we're doing things differently for 2018!
We're collating this year's rankings via a completely new format – polling not only our own BAFA National Leagues team of correspondents but also giving all of our passionate Patreon supporters the opportunity to determine how these rankings stack up!
Each contributor submitted their own picks of who's top dogs in each tier, and then we tallied it all up to create these amalgamated rankings!
Once again, this new format of selecting the top ten teams in each tier is proving tempestuous!
Cut:
Cambridgeshire Cats
Bristol Apache
The Cats slip just outside the rankings following a weekend off and some big wins elsewhere… whereas noones surprised to see the Apache's brief stay in the Top Ten come to an end following a resounding 54 to zip loss to Berkshire.
Hon. Mentions:
The Glasgow Tigers win over Leeds has them sitting just outside a rankings spot – can they follow it up with a strong performance against Gateshead in Week Six and make their first appearance?
---
Total number of teams with at least one Top 10 Ranking: 16 (Down Four)
10. Sussex Thunder (Re-Entry)
The Thunder return to the rankings thanks to the Apache's fall from grace. They'll get a chance to move to 2&1 with the return leg against the Ouse Valley Eagles on Sunday.
9. Gateshead Senators (New Entry)
The Senators see their first placement on the rankings despite no action at the weekend. With games across this conference continuing to come down to the wire, it's to the Senators credit they're the only winless team on these rankings – sat at 0-1-1 with a points differential of a mere -1 after two games!
We'll see the Senators back in action this Sunday as they face off against a Wolverines team they fought to a tie in Week Two.
8. Solent Thrashers (Up One)
Still no action since Week One for Solent, but they return to the field as they host Bristol this weekend – a game the Thrashers suddenly look strong favourites for!
7. Colchester Gladiators (Down Three)
The Gladiators suffer their first loss of the season versus the Hornets, but still cling onto a Power Rankings spot, which seems rather forgiving considering the Hornets barely breached the top fifteen…
Their offence stalled right when it mattered most, so they'll need it to be looking sharp again this Sunday as they take on an Exiles side that won big at the weekend. A loss would drop Colchester off the top of the SFC 1 East… and likely out of the rankings too.
6. Shropshire Revolution (Down One)
Shropshire continue their slide down the rankings following their narrow loss to Sandwell. A combo of strong performances elsewhere and inactivity clearly has the recently promoted Revolution falling out of favour – though they'll get a chance to rocket back up the ranks if they perform well in their next fixture – Week Six versus the Falcons.
5. Sandwell Steelers (Down Two)
Sandwell continue to yo-yo in the rankings following a weekend off and some nice performances elsewhere.
We'll see the Steelers again this weekend versus the 0-1 Mustangs.
4. Berkshire Renegades (Up Two)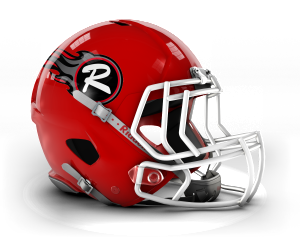 The Renegades surprisingly rise only a couple of spots following their big win over the Bristol Apache at the weekend.
They take the field next in Week Six versus OVE.
3. Northumberland Vikings (Up Four)
The Vikings continue to rocket up the rankings… despite having won both their fixtures so far by only a single point!
They'll be hoping for something a tad more convincing when they take on the Glasgow Tigers in Week Seven.
2. Yorkshire Rams ( = )
The Rams remain in #2, in the midst of three-straight byes.
We'll welcome them back to action in Week Seven versus Gateshead.
1. Leicester Falcons ( = )
And yeah, Leicester remain top dogs… Birds? With all but one of the #1 spot nominations.
That said, we won't see them again until Week Nine six – can another team put together a hot enough streak to see the Falcons fall from the top spot?
---
If you want to contribute to our Power Rankings, get access to extra exclusive content, and support DC's goal of growing the British game?
Head to Patreon.com/Dblcoverage to #GrowTheGame
Comments
comments