Power Rankings | BAFA NL Adult Premiership: Week Four
Power Rankings are here once again following an exciting Week Three!
And, as noted we're doing things differently for 2018!
We're collating this year's rankings via a completely new format – polling not only our own BAFA National Leagues team of correspondents but also giving all of our passionate Patreon supporters the opportunity to determine how these rankings stack up!
Each contributor submitted their own picks of who's top dogs in each tier, and then we tallied it all up to create these amalgamated rankings!
Once again, this new format of selecting the top ten teams in each tier is proving tempestuous!
---
12. Bury Saints ( = )
Bury stay buried at the bottom of the rankings but have a chance to climb if they impress this weekend against Bristol.
11. London Olympians (Down One)
The Olympians slide outside the Top Ten following a weekend off. Their situation isn't likely to look a lot better next week, as they travel to the Warriors on Sunday.
10. East Kilbride Pirates (Up One)
Pirates rise a spot following what was oh-so-close to be an impressive win against the Wolves in Week Four.
They took a nice early lead following a pair of pick-sixes in the first quarter, but couldn't hold off a strong second half from their Scottish rivals.
Still, the respectable loss sees them climb a spot and they can keep climbing if they impress in their trip to Sheffield on Sunday.
9. Sheffield Giants (Down Four)
Speaking of Sheffield, they take a giant tumble down the rankings following a titanic loss to Manchester at the weekend!
With back to back losses, their Week Two win over East Kilbride seems a long time ago… though they'll seek to repeat the feat as they host the Pirates on Sunday.
8. Farnham Knights ( = )
Farnham stay put in eight, but have the daunting task of taking on the Blitz this Sunday.
7. Bristol Aztecs (Down One)
The Aztecs slip a spot as others climb.
They host the Saints Sunday.
6. Merseyside Nighthawks (Up One)
The 'MIA' Merseyside swap places with the Aztecs because… well, just because

.

Their season finally kicks off this weekend versus a gotten-hot Titans!
5. Manchester Titans (Up Four)
Manchester take a big jump up the rankings following their impressive outing against the Giants!
They can solidify their spot as a contender in the Prem North if they can put together a strong performance against last year's playoff attendees, the Nighthawks, on Sunday.
4. Edinburgh Wolves ( = )
The Wolves fend off a strong challenge from the Titans for the #4 spot in the rankings.
They took a win by the skin of their teeth at the weekend – coming from 20 down after a mistake-laden first half to take a historic win over the Pirates that puts them currently sitting pretty at 2-0!
3. London Warriors ( = )
Warriors stay put in #3.
They host the Olympians this weekend.
2. London Blitz (Up One )
Similarly, the Blitz remain bunkered at #2 in the rankings. They travel to Farnham on Sunday.
1. Tamworth Phoenix ( = )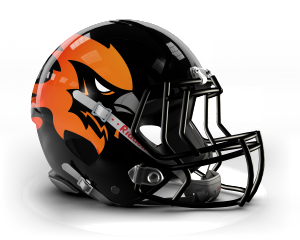 And with Phoenix remaining embedded at #1 in rankings for all but one of our contributors this week, they continue to lock up the top spot.
They next take the field for European action as they host the Carlstad Crusaders at Pack Meadow this Saturday.
---
If you want to contribute to our Power Rankings, get access to extra exclusive content, and support DC's goal of growing the British game?
Head to Patreon.com/Dblcoverage to #GrowTheGame
Comments
comments