Power Rankings | BUCS 2018/19 Week Eight: Division Two
The BUCS season is upon us, and so our Power Rankings return along with your opportunity to have your say on how things stack up across the three tiers of the University game!
We're collating this year's rankings via the highly successful format used this past summer – polling not only our own team of BUCS correspondents but also giving all of our passionate Patreon supporters the opportunity to determine how these rankings stack up!
Each contributor submitted their own picks of who's top dogs in each tier, and then we tallied it all up to create these amalgamated rankings!
If you want your say on who's top dog in each tier? You can join our Patreon for just $1 a month and directly contribute to the growth of the game, and DC's survival!
---
In our first poll since before the midseason break, will some of the shock results in Week Eight have shaken up the Division Two #PowerRankings?
All six conference crowns remain up for grabs – have any new contenders emerged?
Cut:
None
Honourable Mentions:
The UCL Emperors remain on the cusp of a spot in these rankings, but we're yet to hear from them in 2019. This weekend they'll square off against another team that just barely missed out on a top ten spot this week – the Royal Holloway Bears. Odds are it'll be tough for our pollsters to deny whichever of these programmes wins out this week a spot come ranking time!
Meanwhile, though the York Centurions suffered their first loss of the season in Week Eight, the strong showing they put in against Edinburgh actually saw them rise back up in the opinions of our rankings contributors, ending up just shy of a ranking spot, having made a couple of appearances earlier in the season.
10. Liverpool Raptors (3-1) – Down One.
Liverpool keep hold of the rankings spot while they await a return to action in Week Ten against a troubled Tarannau Aberystwyth.
In any other conference, Liverpool could well be contending for a crown.
9. MMU Eagles (3-1) – Down Four
Misfires from the Eagles offence left the door open, and the Falcons flew in to snatch the W. As things stand, what was looking like a comfortable cruise to a conference championship, now looks decidedly shaky.
Savvy MMU supporters will transform into Stallions fans this Sunday, as the Eagles' best hope of securing a crown lies with a Staffordshire win over DMU this weekend.
Oh, and of course MMU themselves can't afford any further slip-ups in their two remaining fixtures!
8. Bristol Barracuda (4-1) – Down Four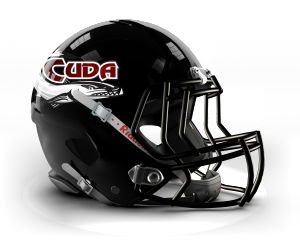 Cuda couldn't break through the Bobcats D, and it costs them – slipping three spots down the rankings.
They're still well in the running for playoff action, but now need help from elsewhere if they want to see middle tier football next season.
They'll have a pair of byes to lick their wounds – hoping for a Worcester win against Bournemouth in Week Ten, before besting the Royals themselves the following week in order to potentially make a three-way tie atop the conference…
7. KCL Regents (4-1) – Up Three
As things stand, the Regents hold all the Aces in a hotly-contested 2A South. They made short work of the WolfPack in Rain Week, and hold the head to head over the Bears.
However, things are far from a done-deal: A stacked first half of the season has earned them a lull in the action, but two potentially crucial fixtures remain ahead of them – against the Spitfires and Emperors, each of whom are still well in the race for the top spot in the conference! (Then again, only three of the eight teams aren't.)
6. Staffordshire Stallions (3-1) –  Up Two
The Eagles slipped up against the Falcons, and suddenly the 2A Midlands is looking far more interesting!
Frustratingly for the Stallions, MMU still hold the head-to-head, so along with winning out, they'll still need help from elsewhere if they're hoping for a swift return to Division One football.
First things first, they travel to a DMU Falcons outfit that will be flying high after moving themselves right into the mix with their upset win at the weekend.
5. Essex Blades (5-0) – Up Three
Handily dispatching their closest rivals, the Pythons, in Week Eight, the Blades are oh-so-close to locking up the 2A South East title.
Frustratingly, we're realistically going to have to wait until Week Ten to know for sure that Essex are Div One-bound, but with how sharp the Blades have looked this year? At this point, it really seems something of a formality.
4. Worcester Royals (4-0) – Down One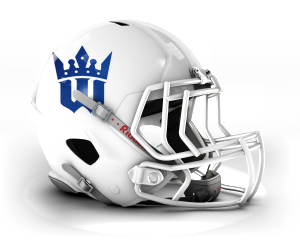 A high climber displaces the Royals from the top three, and odds are they'll not get a chance to reclaim a podium position until Week Ten – a hot-looking game against similarly undefeated Bournemouth.
3. Bournemouth Bobcats (4-0) – Up Three
It may not have been the prettiest of victories, but this Bobcats Defence is looking like the real deal – keeping Bristol's offence in check and allowing the O to grind out the W.
They've allowed only one score on the season so far, and this weekend host a Bath Spa Bulldogs team that are yet to break their duck in 18/19.
2. Edinburgh Predators (5-0) – Hold
They made it look like hard work through the first half, but the Predators finally cracked the Centurions defence to take away a win that places them within sniffing distance of the conference crown, and promotion to D1 balling.
Expect the Predators players to suddenly become huge HWU fans this weekend, as a Wolverines win versus the Teesside Cougars would allow Edinburgh to seal the deal on a conference title with a game in hand.
1. Leeds Gryphons  (3-0 ) – Hold
The general consensus this season is the Gryphons are team playing at the level of a decent Division One outfit, currently contending in one of the most-troubled conferences in the bottom tier.
This Sunday the Bradford Bears will make the short trip between the two cities and expectations are the Gryphons might be gunning for a fifty burger to kick off their Super Bowl snacks!
Comments
comments