Power Rankings | BUCS 2018/19 Week Eleven: Division Two
The BUCS season is upon us, and so our Power Rankings return along with your opportunity to have your say on how things stack up across the three tiers of the University game!
We're collating this year's rankings via the highly successful format used this past summer – polling not only our own team of BUCS correspondents but also giving all of our passionate Patreon supporters the opportunity to determine how these rankings stack up!
Each contributor submitted their own picks of who's top dogs in each tier, and then we tallied it all up to create these amalgamated rankings!
If you want your say on who's top dog in each tier? You can join our Patreon for just $1 a month and directly contribute to the growth of the game, and DC's survival!
---
The wonderful thing about Week Eleven? 
That for all the questions it answered, just as many mysteries remained unsolved as results across the bottom tier ensured we still have two titles and half the postseason berths up for grabs! 
What's more, the scorelines also meant this week's Power Rankings see a new contender emerge in the top ten teams of Division Two!
Cut:
Royal Holloway Bears – I feel this one's a bit harsh, but the problem is that the Bears' toughest opponent this season… seems to be the weather!
On paper at least they're still right in the running for the 2A South title, but to snag it they'll not only need results elsewhere to go their way, but also find a way to fit three fixtures into the remaining four days of the regular season!
Now, in truth, that's not as impossible as it might first appear: Their missing BNU fixture will almost certainly be awarded, and they're already scheduled to take on the Mariners this Sunday. However, there's currently no sign of their crucial clash against the Chichester Spitfires, without which the Bears' chances of postseason football look a little slimmer… It's still possible we could see four or even five teams in this conference close out their season with five wins and a dizzying array of overlapping head-to-heads…
Bristol Barracuda – Look, if you're going to lose a game, surely among the 'best' ways to lose is in overtime against an as-yet undefeated conference champion?
Kudos to the 'Cuda. They came up short on Sunday, but made a helluva fight of it.
A win over Gloucester in Week Twelve will see them extend their season.
Honourable Mentions:
The HWU Wolverines got a shout out from a handful of pollsters this week, after their win over the Centurions saw them climb into a playoff berth following Week Eleven. They await results from elsewhere in the Borders to confirm if their season will continue further.
While from the Midlands, the DMU Falcons are an outfit likely deserving of a rankings spot – if only the top of the tier wasn't so crowded! They head to a crucial clash with the Stallions that could yet see the Leicester side hoist their first conference title!
10. Sussex Saxons (4-2) – New Entry!
There's few better ways to attract our pollsters' attention than posting up a fifty burger, and so the Sussex Saxons finally make their debut appearance in the Division Two rankings following a 50-6 win over the City Wolfpack last weekend!
The victory moves the Saxons to 4-2 on the year, with their sole remaining fixture a clash with the BNU Buccaneers we fully expect to be awarded in the Saxons' favour. Assuming it is, they'll close out the regular season with a healthy-looking 5-2 record!
However… In a conference where, best I can tell, five teams could still end their season with five wins*?
Honestly, who knows what that really means for the Saxons' playoff chances!
*If UCL beat KCL, Sussex beat BNU, RHUL beat BNU and Greenwich, but then Chichester beat RHUL, we'd KCL, UCL, Sussex, Chichester and Royal Holloway all tied on 5-2 records. Currently, the only bit of this equation that doesn't appear possible is there's no sign of the Bears/Spitfire game being scheduled before season's end, and may well therefore simply be voided.
9. Liverpool Raptors (5-1) – Re-entry
The Raptors are finally rewarded with a return to the rankings, having concluded their campaign with a convincing win over Bradford.
They may not have been able to steal away the top spot in the North, but they've still put together a campaign to be proud of, and could yet cause some upsets in the postseason!
8. MMU Eagles (5-1) – Hold
The Eagles have done all they can – now they must simply wait and see whether the Stallions, or the Falcons, emerge victorious from the two teams' Week Twelve clash.
Don't be surprised if you see a bunch of blue and orange jerseys cheering loudly on the Staffordshire sideline on Sunday.
7. Bournemouth Bobcats (5-1) – Down Two
The Barracuda couldn't quite help the Bobcats out, and so Bournemouth are resigned to another year of Division Two football. Even so, they've put together an impressive campaign, and are guaranteed postseason action.
They head to Solent on Sunday, with a win ensuring them home-advantage for the first round of playoff fixtures.
6. Edinburgh Predators (5-1) – Hold
The Predators are busy resting up for playoffs. Any hopes of re-acquiring the #1 seed in the north are now passed, but we're pretty sure they've already forgotten about it, as the prospect of Division One football next season lifts their spirits!
5. KCL Regents (5-1) – Up Two
Returning from a good few weeks off, the Regents did what was required of them to get the win in Week Eleven, ensuring they can close out their regular season with their fate in their own hands – something no other team in the 2A South can truly claim at this point!
Their defence continues to be the backbone of their success, and they'll ask it to step up to the plate once more when they take on the Emperors in the two teams' regular-season finale – a win wins the Regents the crown, a loss… a loss makes things complicated. Potentially VERY complicated.
4. Staffordshire Stallions (4-1) –  Hold
The Stallions didn't get the help they wanted from the Chester Legion this past weekend, and they face the unfortunate situation of heading into their final fixture of the year knowing that winning in Week Twelve would seal the deal on an MMU Midlands title!
On the flipside, losing could put their postseason status at risk, so best bet is to put their best hoof forward and continue the stampede they began back in Week Four!
3. Essex Blades (6-0) – Hold
Undefeated champions.
#1 seeds in the south.
Division One beckons for the Blades along with home-field advantage throughout their postseason should they keep on winning.
2. Worcester Royals (6-0) – Hold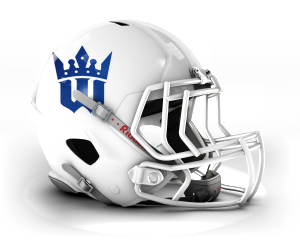 It might have been by the skin of their teeth, but the Royals finally earned the programme's first true crown this weekend.
They've proven they can win in shootouts, and they've shown they can get down in the trenches and tough it out for a win too.
A first-ever undefeated campaign beckons if they can best the OBU Panthers in Week Twelve.
1. Leeds Gryphons  (6-0) – Hold
#1 offence in Division Two.
#1 defence in Division Two. (And #2 defence ever in the BUCS era).
A Week Eleven win over the Vikings and an awarded one over the Bears sees the Gryphons complete their inevitable-looking return to middle-tier football.
Having held roost at the top of the rankings for much of the season, the Gryphons are clear favourites for a Northern title according to our pollsters!
Comments
comments