Predictions | BUCS 18/19 Division Two Week Ten
The weather took its toll on Division Two in particular last week, as we saw only five of thirteen fixtures played out.
With an even more crammed slate of fifteen D2 showdowns scheduled for this Sunday, hopes are we'll get a break from the winter storms, providing a more clear picture of who the true contenders in the tier are, come Monday morning…
2A Borders
YSJ Jaguars v Sunderland Spartans
The Jaguars have already had their first taste of success in 2019, with a Week Eight win over the Pyros.
Sunday will see them make history once again, as not only will they get an opportunity notch up their second W in team history, but -so long as the game goes ahead- the Jags will have successfully completed their first full BUCS season, having been forced to forfeit a number of fixtures in their inaugural season.
A worthy accomplishment, to crown off a season of obvious growth for this young programme, who've displayed clear development throughout their campaign.
Still, as they've learnt – Ws aren't easy to come by, and though the Spartans will have to scramble to fit all their fixtures in, at 2-1 on the year following their Week Eight win over the Wolverines, they've actually positioned themselves to take a shot at a playoff berth should they find success in their remaining fixtures – perhaps some compensation for the fact they now know they'll not be returning to D1 football next year, with the Predators having already locked up the Borders crown last weekend.
There's a lot of similarly in the scorelines between these two teams when facing common opponents so far this season – don't be surprised to see a hotly contested game come Sunday!
Who wins?
We polled our team of eight BUCS correspondents…
Sunderland's win over Heriot-Watt turned heads and has put them in position to make a run at postseason action. As such, with more to play for they garner a full set of picks from our BUCS office.
Apparently the Jags season won't end in the style they'd like, but credit where it's due to YSJ on their progress this year.
Edinburgh Predators v Teesside Cougars
Teesside's loss to the Wolverines sealed the deal on the Predators' conference crown, but there's still a lot to play for, for both these outfits on Sunday:
Teesside may not longer be able to contest a crown, but if they can find a way to fit all their fixtures in, playoffs are not beyond them.
Meanwhile, for the Predators strong seeding could be a key to success in the postseason. They currently hold the #1 seed in the north by the slimmest of margins, a position that would entitle them to home berths all the way through to the Cup Final!
To ensure they keep hold of it however, Edinburgh will want to not only WIN at the weekend, but do so while conceding as few points as possible – ensuring the Predators stay ahead of the pack in the Northern seedings.
Teesside could yet play spoilers in the Predators' season should the Borders Champs come in overconfident – even conceding too many points could well prove costly!
Who wins?
We polled our team of eight BUCS correspondents…
While they've already secured the primary prize, promotion, don't underestimate how much value seeding has – especially in Division Two where the championship game itself is played at the top seed's venue.
#1 Seeds stand to save big bucks in travel through the postseason, and that alone is worth playing right down to the wire for.
2A North
Lancaster Bombers v Bradford Bears
Two mid-table teams who'll be eager to play catch up on the frontrunners in their conference after weather postponements have left them behind the curve.
Bradford currently face the unenviable task of fitting four fixtures into three weeks of football, else in all likelihood simply won't have enough fixtures completed to contest a playoff spot despite their current .500 record.
With just two games under their belt so far in 18/19, it's tough to get a clear picture of the Bears. Certainly, they look much-improved on the team that struggled to field a roster last season, but they were edged out by the Vikings ahead of the midseason break and that crucial loss could well prove troublesome as they still have some of their toughest matchups of the season to play out – against the likes of Leeds and Liverpool.
As such, this game against the 1-2 Bombers is pretty much a must-win if Bradford want to mix things up in the top half of the table.
Lancaster meanwhile have weathered their fixtures against the Gryphons and Raptors, and we'll now get a chance to see whether they've come out the other side of these two shutout losses a better team for the experience?
With only 8 points scored total through three outings, they'll need to be more explosive to turn around their season, but a winning record is not beyond them if they can get their offence clicking from here on out.
A classic Yorkshire/Lancashire showdown, county pride will also be at stake this weekend…
Who wins?
We polled our team of eight BUCS correspondents…
Lancaster narrowly take the poll, 5-3, but it's clear the team weren't overly sure what to expect from either outfit having seen so little of either of them this season.
I think we're probably looking at a classic 2A North scoreline here – something decided by less than a score as the wonderful northern climate forces both offences to keep things simple and safe.
Edge Hill Vikings vs Leeds Gryphons
With both teams missing out on their 2019 debuts in Week Nine thanks to the weather, we'll instead welcome them both back to the action on Sunday as the undefeated Gryphons take a trip to a Vikings side that'll perhaps be pleasantly surprised to find themselves with a winning record at this point of the season – having picked up those two wins by a combined three points, following squeakers against Bangor and Bradford during the first half of the season!
The Vikings have certainly proven their ability to win out in close-fought contests, but will that be enough to stand true in the face of a Leeds outfit that looked a clear cut above the rest of the conference through the first half of the season?
Through their three fixtures the Gryphons boast an average scoreline of a 43-2 win, with back-to-back shutouts and mercy clocks heading into the break, and one of the increasingly rare fifty burgers we've seen this season, over Aber in Week Six.
As such, they'll come into this game with a lot of confidence, and the Vikings will surely be heavy underdogs this weekend…
Who wins?
We polled six of our team of eight BUCS correspondents…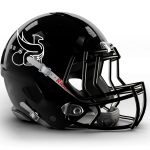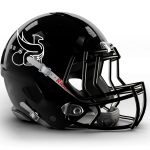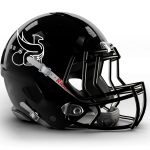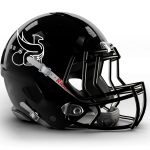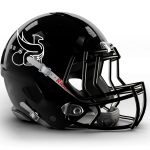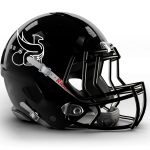 Yep, without the backing of our two team members with links to the Vikings, it's a clean sweep of picks for the Yorkshiremen this Sunday.
Leeds advance to 4-0.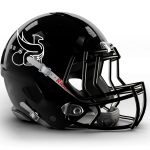 Liverpool Raptors v Tarannau Aberystwyth
Aber are in the midst of a distinctly disappointing season so far – three games in, and only three points scored on the year.
A Week Eight loss to the previously winless MudDogs has left them lingering alone at the bottom of the table, and in all likelihood, life's not about to get any easier as they take a trip up to a Raptors that are looking every bit a very capable playoff team this season – if only the Leeds Gryphons weren't also in the 2A North this season, Liverpool could easily be playing Division One football next year.
As is, they'll look to secure a winning record for the season this Sunday, and hope for either a significant upset, or potentially even just the weather, to give them an edge over the Gryphons.
The Thunder need to start finding some rhythm on offence before it's too late, but it's a big ask to kickstart a turnaround in their campaign against a team that's riding a three-game win streak.
Who wins?
We polled our team of eight BUCS correspondents…
It's a clean sweep for the Raptors, who currently hold the #4 seed in the north and intend to keep ahold of that home berth through the first round at this rate!
2A Midlands
MMU Eagles v Huddersfield Hawks
Another #BirdOff in the Midlands as the 1-1 Hawks hurry to play catch up on the 3-1 MMU Eagles.
The Eagles looked on course for an undefeated campaign, but a slip up against the Falcons a fortnight ago has left them in peril of relinquishing their grip on a Midlands title. Another loss would almost certainly spell doom for their promotion hopes.
The Hawks will certainly be coming into this one fresh – postponements either side of the holidays mean we haven't seen Huddersfield in action since Week Four! Two and a half months later, if Huddersfield are hoping to repeat last season's playoff debut, they not only need to cram an awful lot of football into not a lot of time, but also most likely win-out from this point forwards.
Huddersfield bested MMU handily when the two teams met last season, 6-34, but MMU's winning record so far has been thanks to a resilient defence that's allowed just one multi-touchdown game so far this season, and so we're expecting a much more closely contested scoreline this time around.
Look for the first team to three, or perhaps even on two, scores to take this one – the big question is whether the Hawks' lack of game time will hinder them as they reach the crunch-point of their season, or will a healthy roster give them an edge over an Eagles outfit carrying a number of knocks?
Who wins?
We polled our team of eight BUCS correspondents…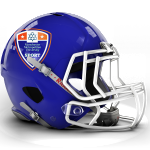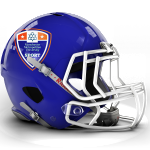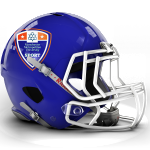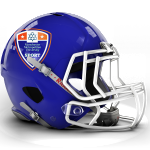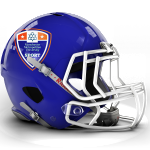 MMU edge the poll 5-3, and if you were to tell me that was the final scoreline at the end of this game, I honestly wouldn't be all that surprised!
With most of the conference still in the mix to stake a claim on the crown, we could be in for an interesting final few weeks in the Midlands!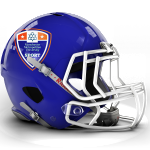 Lincoln Colonials v Staffordshire Stallions
The Colonials returned to winning ways last week, as one of the few D2 teams to dodge the weather.
A promising start to their campaign was followed up with a disappointing loss and then postponement going into the break, and so a comfortable 24-6 win over a shorthanded Keele Crusaders was a perfect way to kick off 2019…
But carrying that momentum further into the year may be a big ask as they play host to a Stallions outfit that have looked unstoppable through much of their season!
Boasting an average scoreline of 40-0 through their last three outings, a day one loss to the Eagles is the only blemish on Staffordshire's campaign thus far… though, admittedly, that's a rather crucial one.
Still, Staffs know that if they're planning on returning to middle tier football, winning out while hoping for an MMU mess up gives them their best opportunity, and so having been frustrated by the Falcons fixture being postponed last weekend they'll be eager to keep their win streak going against the Colonials on Sunday.
Lincoln are clearly a much-improved outfit on the programme that really struggled to find anything to cheer about in 17/18 – can they continue their upwards trajectory by stopping a stampeding Stallions side? Looking at comparable scorelines, there's not a wealth of difference between these two programmes.
Who wins?
We polled our team of eight BUCS correspondents…
The Stallions take the poll 2-6, but it'd be something of a surprise if we see a scoreline quite as large as their recent showings – Lincoln's own season started with a hefty win of their own, too, so we'd look for both teams to be putting up points in this one.
2A South West
Bournemouth Bobcats v Worcester Royals
If we weren't busy playing catch up on a wealth of content, this one's an obvious Game of the Week contender in the bottom tier.
Two undefeated outfits go head-to-head, with the very real prospect of a coronation taking place once the dust has settled!
Yup, it's win-and-in for the 5-0 Bobcats, as a victory over the Royals would leave them uncatchable atop the 2A South West!
While they've been lucky enough to put up two of their wins courtesy of walkovers, the fact remains that through three onfield outings the Bobcats' outstanding defence has conceded just a single score so far this season.
Even so, they'll need to be on their best form this weekend, as they take on a Worcester Royals outfit that certainly seem to be enjoying their new home in the South West conference, after a good number of years mixing it up in the Midlands. The Royals lead the conference (in fact the entire tier) in offence, and by quite some margin, having put up 154 points on the season so far!
This game could well be the Division Two version of unstoppable force meets an immovable object, as high flying offence takes on an unbreakable defence, with a conference crown on the line. Exciting stuff!
Who wins?
We polled our team of eight BUCS correspondents…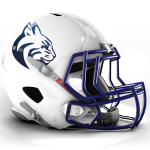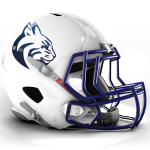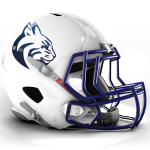 Interesting… And I'm not gonna lie, a little unexpected, too! Hosts, Worcester, take the poll 5-3, as it seems the team took note of the Bobcats having put up two of their W's via walkovers, along with having far less impressive looking offensive numbers.
Apparently, in this instance, defence doesn't win championships?
Either way, both teams are putting together cracking seasons, and one notable advantage of a Royals win would be it keeps the race for the 2A South West crown interesting right through the full course of the regular season!
OBU Panthers v Solent Redhawks
After a promising start to their campaign went awry with back-to-back losses ahead of the holidays, the Panthers return from a lengthy break looking to claw their way back into contention in this conference.
With their Cavalier Cup fixture postponed last week, we haven't seen OBU in action since Week Five, and as such it's tough to know what to expect from them when they play hosts to Solent this Sunday. One key will be getting things to click on offence once again, as misfires against Bristol and Bournemouth have left the Panthers with only an outside shot of seeing postseason action – pretty much needing to win out from this point forwards and hope for results elsewhere to go their way too.
The Redhawks moved to .500 courtesy of a narrow Rain Week win over the Lancers, and it's becoming clear that this a team built around their defence. Though they've taken two losses on the year so far, they kept themselves well in those games thanks to keeping both the Cuda and Royals to some of their lowest scorelines of the season. Having shut down the Lancers entirely in their last outing, the Redhawks will be hoping to do similar to this second Oxford outfit, and thus advance to the first winning record of their campaign.
With veteran coaching staffs on both sidelines, this could be quite an interesting match up, with the winners giving themselves an outside shot at extending their season…
Who wins?
We polled our team of eight BUCS correspondents…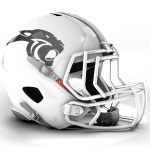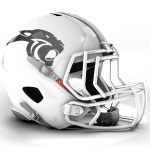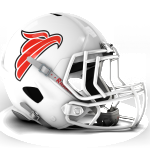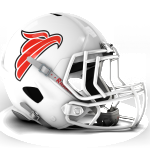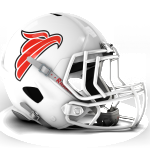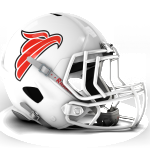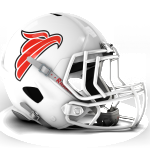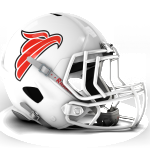 With OBU having not tasted victory since Week Two, they could only persuade two of our pundits to pluck for the Panthers.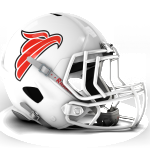 Gloucestershire Gladiators  v Bath Spa Bulldogs
The biggest question coming into this game might well be whether or not it'll actually go ahead?
With Gloucester forced to forfeit their last outing ahead of the break, and Bath Spa now having racked up two walkover losses on the season, top priority for both teams will be ensuring they have a healthy enough roster to actually take the field on Sunday.
Should they do so, the Gladiators will surely be looking to this game as their best opportunity to bring some positives to an otherwise decidedly disappointing 18/19 campaign. Having been robbed of playoff football in 17/18, the Gloucestershire University side have been plagued by problems this season – low player numbers, compounded by too many injuries, have lead to them standing no chance whatsoever of seeing postseason football this time around.
Still, they can salvage some pride from this season if they can put together a good showing against a Bulldogs side that continue to struggle in turning off-field positives, into on-field performance.
New coaches, new logo… But no new mojo so far for the Bulldogs, who are yet to put up their first points of the season. In fact, you'd have to go right back to 2016 for the last time the Bulldogs found paydirt in a league fixture. Ouch.
Who wins?
We polled our team of eight BUCS correspondents…
Playoffs might be out of reach, but the Glads should at least be able to rid themselves of the doughnut in the W column this weekend.
2A South
UCL Emperors v Greenwich Mariners
Disappointment for the Emperors last week, as they came up short in a crucial clash with the Bears.
The second loss on the year leaves UCL on the outside looking in, as the 2A South easily has the most competition for a potential three playoff berths. While everything's still up for grabs in this conference, with every single outfit having suffered at least one loss on the season, we are getting the distinct impression that it'll be one of the one-loss outfits that seals the deal on the southern crown this season, and as such the Emperors 14-18 defeat last weekend could prove pivotal.
However, nothing's set in stone yet and a multi-team tie at the top is still very possible, especially if the Emperors can steal a win away from the Regents on the final Sunday of the season.
First though, they'll need to bounce back from their Week Nine disappointment and move past a Greenwich Mariners side that have hit rough seas of late.
Outside of two-quarters of comfortable scoring against a BNU Buccaneers team that have been MIA ever since, it's been a tough year for the Mariners – currently riding a three-game losing streak, and having failed to post up points in either of their outings this side of Christmas.
On a positive note, they look like they've shored up their defence, holding both the Spitfires and Saxons to modest scorelines, but it's tough to post up any Ws when you're not putting up points.
Can the Emperors keep themselves in the chase for the crown?
Who wins?
We polled our team of eight BUCS correspondents…
Their loss in Week Nine has hurt their chances, but UCL are still right in the mix if they can win out from here.
The final few weeks of action in this conference should be great to watch!
Sussex Saxons v City WolfPack
It's all gone a bit awry for the WolfPack lately, as its become clear that their season-opening win over the Mariners was far less meaningful than it first appeared.
They've since followed that early victory with four straight losses, including three shutouts, and since the break have particularly struggled to keep opposing offences in check – conceding an average of nearly 33 points a game through their last three appearances.
Their hefty loss to the Spitfires last weekend mean playoffs are already out of reach, but they can still shake things up in the 2A South if they're able to cause an upset against the Saxons on Sunday.
Speaking of, Sussex have proven something of a conundrum so far this season. At this point in the year they're the only team to have taken wins away from the likes of the Regents and Spitfires, but losses to UCL and Royal Holloway mean they're now in need of assistance from elsewhere if they intend to return to middle tier football ready for next season.
They returned to a winning record with a victory over the Mariners last weekend, though we'd've liked to see a somewhat more convincing scoreline in order to see this team as a true playoff contender… But inch or a mile, if they make it four wins this week they'll be right in the race!
Who wins?
We polled our team of eight BUCS correspondents…
Sussex take the bulk of the picks, ensuring the top of this conference stays crowded right down to the wire!
Chichester Spitfires v Royal Holloway Bears
We expected a low-scoring outing from the Spitfires against the WolfPack last week… Umm. Our bad!
The Spitfires took flight in Week Nine, tearing apart City to the tune of a 36-0 scoreline that's ominously reminiscent of the defeat the 'Pack suffered in Week Eight… to none other than Chichester's opponents this weekend, the Royal Holloway Bears.
Yeah, I won't lie – the Spitfires hadn't really appeared on my radar up to this point in the season – they were winning, but hadn't really taken any notable scalps outside of a day one overtime victory against the Emperors.
However, their comfortable crushing of the WolfPack turned heads, and hints that when they play to their potential they have the offensive output to contest any fixture in this conference.
Which is well timed, as they take on a Royal Hollway side who also seem to be building momentum – racking up two wins already this side of the midseason break, and with only the Mariners and a likely walkover win against BNU remaining on their slate outside this game? Odds are a single-loss season beckons should the Bears emerge triumphant from this game!
It's possible this game could have a big influence on promotion. It's certainly going to impact playoffs… Which of these two gotten-hot teams comes away with the W though?
Who wins?
We polled our team of eight BUCS correspondents…
The Bears are playing with a lot of confidence lately, and it's reflected in our team's confidence in them – emerging 2-6 victors in the poll.
2A South East
Essex Blades v ARU Rhinos
With ARU's clash against the Phoenix postponed last week, we were forced to wait yet another seven days to learn more about the shape of the 2A South East.
Even so, with Week Ten upon us, if all four outfits play to form we should be seeing the Blades crowned by the time the dust settles on Sunday afternoon – an Essex win over a ARU side they already bested 2-33 earlier this season, combined with a Cambridge victory over the Phoenix, would seal the deal on a 2A South East title for the Blades.
I want to find some insights to say about this matchup, but the reality is Essex have shown themselves to be a cut above the rest of their conference this season and we'd need two absolutely huge upsets to stop their march to middle tier football.
ARU can still see postseason football should they find a way to squeeze their four fixtures into the remaining three weeks of the season, but they certainly have some mountains to climb in order to swipe the head-to-head advantage from either Essex or Cambridge.
Who wins?
We polled our team of eight BUCS correspondents…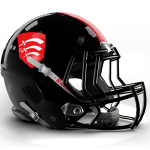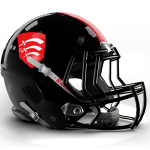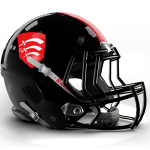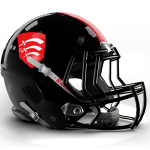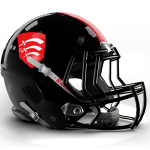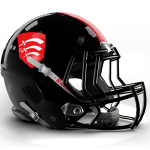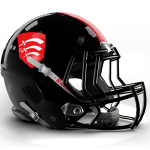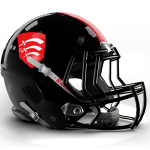 'Any given Sunday' and all that, but just to be safe, we'll get to work on a crowned Blades' logo.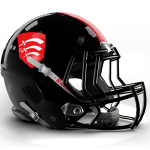 UEL Phoenix v Cambridge Pythons
Following their Week Eight loss to Essex, odds are the Pythons aren't returning to Division One football any time soon.
However, postseason action is well within their reach if they can simply play to form through their final two fixtures – they've already bested the Phoenix and Rhinos by comfortable margins once already this season, and should be able to lock up the #2 spot in the South East over the next two weekends.
With so little action from them, it's tough to find much else to say about the Phoenix. We've not seen sight of them since way back in Week Four – a hefty loss to the Blades.
Short of some strong recruitment or development during their lengthy time away from the gridiron, the key matchups for UEL could well be their clashes against the Rhinos to determine who'll sit dead last in the South East come season close.
Who wins?
We polled our team of eight BUCS correspondents…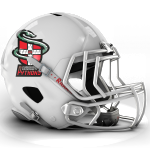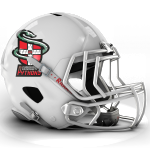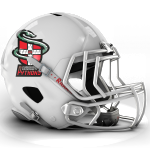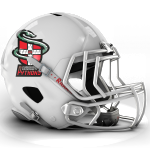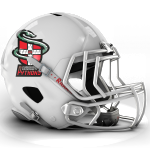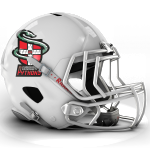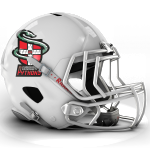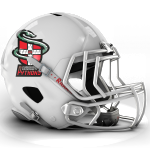 A win for the Pythons doesn't quite seal the deal on playoffs… but it'd give them a 35-point buffer going into their final game of the season vs ARU, so they'll be feeling pretty confident of extending their season at that point.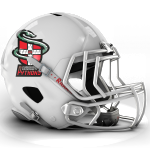 Comments
comments