Predictions | BUCS 18/19 Rain Week
With a number of fixtures postponed in 2018, we see a handful rescheduled into the one 'spare' week in the calendar, colloquially named 'Rain Week'.
We've seen some chops and changes as to which games are actually taking place this weekend, but best we can tell we've got four fixtures that'll kick off on Sunday… So let's see what our BUCS office thinks about each of them!
1A South West
Cardiff Cobras v Exeter Demons
The lone middle tier match-up sees a classic south-west showdown between the Cobras and Demons, rescheduled from a heavily-weather-afflicted Week Five.
Both teams went into the break off the back of nice, shoot-out victories, and thanks to the trading of results elsewhere in the conference, each can still consider themselves well in the race for the postseason!
Exeter put our prediction team to shame once again right ahead of the break when they bested the Bath Killer Bees for a second time this season, becoming one of just two teams in the conference to hit the midseason with a winning record. Perhaps more importantly, their offence finally found its feet against the Bees, with some huge plays from the Demons' ground game (keep an eye out for one of them potentially making an appearance in our Rush of the Year stakes!)
Cardiff meanwhile went into the break following something of a scare against the Plymouth Blitz – true to form, Plymouth played their best football of the season so far in their home debut, and a truly outstanding performance from EP Sports Elite Player, Patrick Wilson, turned what had been a heavy loss against Cardiff earlier in the season into one of the most exciting shootouts of the season so far in Week Six.  However, the Cobras' resilience won through, as they outlasted their hosts and returned to winning ways after a worrying two-game slide.
While both of these outfits will be eager to gain ground on the conference-leading Stags, it's worth noting we're probably not looking at crunch time just yet – a loss here would hurt, but they'll be seeing each other again before the year is out. With so many teams in this grouping tearing chunks out of one another, it could well be that ANY winning record might be enough to contest a postseason berth!
Now… let's see if our prediction team have finally learnt its lesson about picking against the Demons…
Who wins?
We polled seven of our team of BUCS writers – we were fairly certain where Coach Lydon's vote would have gone if we'd allowed him one!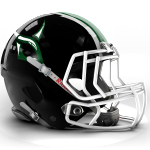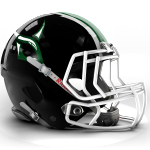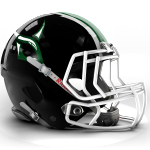 Cobras edge the vote – though notably it would've been a tie if we'd let the full team have their say!
In truth, I think we're at the point now where the Demons are quite happy to embrace their 'underdog' status. Their rejigged coaching staff has had a chance to settle itself in, and predicted losses gives them great bulletin board material!
Still, Cardiff's offence has been consistently putting in good numbers all year long, so our team have picked the snakes to sneak a W here, most likely in a bit of a shoot out!
2A Borders
Edinburgh Predators v YSJ Jaguars
3&0 plays 0&3 as the Predators and Jaguars finally meet in a rescheduled Week Two outing.
Undefeated through two played games, Edinburgh have impressed so far this season – the Predators have taken two comfy wins and a walkover, and are putting up a good number of points thanks to their ever-dangerous ground game headed up by Calum Davidson.
Even so, it'd perhaps be a mistake to entirely discount the Jaguars on Sunday. Entering their second season in the league, they've shown marked signs of improvement so far this campaign – they're yet to be shut out through three fixtures, on in their final outing of 2018 game within 3 points of earning the club their first ever league win when they'll narrowly succumbed to the Cougars, 23-20!
Odds are there's going to be a clear favourite coming into this game… but can the young York outfit use this weekend to build up momentum ahead of what could be a crucial contest against UWS in Week Nine?
Who wins?
We polled our team of eight BUCS writers…
No surprises here, the Predators have appeared well ahead of the pace of the rest of the conference so far this season – their convincing win over local rivals HWU only emphasising that this appears to be the Predators' year of triumph if they can maintain their form through the latter half of their campaign.
2A North
Bradford Bears v Bangor MudDogs
Disappointingly we're hearing this fixture will be going down as a walkover win postponed until the 24 February as the Bradford Bears were unable to secure a viable venue for the fixture.
2A South West
Solent Redhawks v Oxford Lancers
Two teams we expect aren't best pleased with the state of their seasons so far, odds are it's now or never for both these outfits if they want to have any chance at all of seeing some postseason action.
Both teams have come painfully close to picking up more Ws, and against some serious contenders no less, but in or a mile a loss is a loss and both teams are well off the pace in a conference that currently boasts three undefeated programmes heading into the second half of the season!
Looking at their comparable results, we can see both these outfits seem in fairly similar shape – each outfit ran the Royals and Cuda oh-so-close – the Redhawks one win on the year so far has come against a Gladiators side that's had some real struggles this year.
Even so, despite the similar results, a closer look might imply we're looking at two quite different teams.
Solent, as ever, are built around a very capable defence – quality coaching combined with athletic play has allowed them to keep some of the best offences in the tier in check.
Oxford meanwhile seemed to be one of the more high-flying offences in the conference… at least until they came apart against the Bobcats ahead of the break. Their D, on the other hand, is simply shipping too many points so far this season.
Both outfits will have some Christmas rust to shake off… don't be surprised if this one is decided by a couple of crucial mistakes… But which team'll be the one making them?
Who wins?
We polled our team of eight BUCS writers…
Without a win to their name so far this season, the Lancers could only sway two of the team to take a shot on them this week.
A fourth loss ensures a losing record on the year, and utterly wipes the possibility of any postseason action. Solent meanwhile could position themselves as an outside chancer if they can move to .500.
2A South
City Wolfpack v KCL Regents
Early in the year we were ready to declare this conference a two-horse race… but upsets in late 2018 have shaken things up, and all of a sudden we have six out of eight outfits on at least a .500 record and more than capable of contesting the top spot in the 2A South!
Of course, if a 1-1 team like the Wolfpack intends to get themselves into the race for the crown, they're going to have a hectic few weeks ahead of them!
Sunday's meeting will kick off five straight weeks of fixtures for the Wolfpack, so they'll not only be looking for the W this weekend, but to also come out of it with as intact a roster as possible!
Certainly the 3-1 Regents likely pose possibly their biggest challenge of their remaining season, right out of the gate. KCL have particularly excelled on defence this season, with a devastating defensive line causing incredible disruption to opposing offences – they've allowed just two scores through three fixtures, and with the Wolfpack coming off a shutout loss in their last outing ahead of the break? City will need to have really sharpened up on O if they're to pull off an upset here and really mess things up at the top of the table!
Who wins?
KCL took perhaps their most impressive scalp of the season so far in their final fixture of 2018, besting the Royal Holloway Bears 2-14. As such, it's perhaps no surprise that the frontrunners in the conference take a clean sweep of picks ahead of Sunday's game.
Still, even should they successfully move to 4-1, it won't be a done deal just yet – crucial fixtures against the Spitfires and Emperors remain ahead of them!
Comments
comments