Two teams. One game. It all comes down to this.
On Sunday, February 4, the Philadelphia Eagles and the New England Patriots will meet in Super Bowl LII (52) (11:30PM) at U.S. Bank Stadium in Minnesota.
Super Bowl LII will feature the No. 1 seed in each conference – the NFC champion Eagles against the AFC champion Patriots. It also marks a rematch of Super Bowl XXXIX when New England defeated Philadelphia 24-21 on February 6, 2005 in Jacksonville.
This is the third Super Bowl in which each team ranked in the top five in both points scored and fewest points allowed (Super Bowls IV and XIII). The Eagles were third in points scored (28.57 points per game) and fourth in points against (18.4) while the Patriots ranked second in points scored (28.63) and fifth in points against (18.5).
Philadelphia Eagles
The Eagles earned a berth in the Super Bowl with a 38-7 win over Minnesota in the NFC Championship Game. Philadelphia, which scored the final 38 points in the win over the Vikings, became the third team to head to a Super Bowl on a scoring run of at least 38 points.
Philadelphia advanced to the Super Bowl for the third time in franchise history (1980 and 2004) and the Eagles are looking for the team's first Super Bowl title.
The Eagles, led by second-year head coach Doug Pederson, tied a franchise record with 13 regular-season wins (2004) and earned the No. 1 seed in the NFC for the fourth time since 2002. The Eagles, who completed a "worst-to-first" turnaround, are the first team since the 2009 New Orleans Saints to win its division the season after finishing in or tied for last place and advance to the Super Bowl.
"It's a tremendous feeling to be going to the Super Bowl,"
Says Pederson. "I love coaching this football team. I love coaching these players. The thing about this team is that despite all the adversity that surrounds the team, these guys don't listen to that. I don't listen to that. They come to work and practice hard every day. They love being around each other. One of our goals was to be the NFC champions and represent the NFC in the Super Bowl. And now we've got our work cut out for us. We're going to the Super Bowl and we still have some unfinished business ahead of us."
Philadelphia quarterback Nick Foles completed 26 of 33 passes (78.8 percent) for 352 yards with three touchdowns and no interceptions for a 141.4 passer rating in the NFC Championship Game victory. Foles is the only quarterback in NFL history to record a 100+ passer rating in each of his first three career postseason starts (minimum 20 attempts per game). In this year's postseason, he has completed 49 of 63 passes (77.8 percent) for 598 yards with three touchdowns and no interceptions for a 122.1 passer rating.
Foles, who has taken over for injured Pro Bowl quarterback Carson Wentz, is only the fourth quarterback in the Super Bowl era to win two postseason games after making three or fewer starts in the regular season. The other three quarterbacks to accomplish the feat are Doug Williams (1987 Redskins), Jeff Hostetler (1990 Giants) and Frank Reich (1992 Bills). Reich currently serves as Philadelphia's offensive coordinator.
Eagles running back Le Garrette Blount, who has rushed for a touchdown in both playoff games this season, has 10 rushing TDs in his postseason career, the most among active players. British Running back Jay Ajayi has led the team in rushing in both of the club's postseason victories. The Eagles ranked third in the NFL this season averaging 132.2 rushing yards per game.
Philadelphia wide receiver Alshon Jeffery had two touchdown receptions in the NFC Championship Game and wide receiver Torrey Smith added one touchdown catch. Eagles tight end Zach Ertz led the team with eight receptions and 93 receiving yards against the Vikings. Foles became the first quarterback in NFL history with completions of at least 40 yards to three different receivers in a single postseason game – Jeffery (53 yards), Nelson Agholor (42) and Smith (41). Additionally, Foles connected with Ertz on a 36-yard pass play.
Eagles cornerback Patrick Robinson had a 50-yard interception-return touchdown in the NFC Championship Game, his first career postseason interception. Philadelphia rookie defensive end Derek Barnett, the team's first-round selection in the 2017 NFL Draft (No. 14 overall), had a sack and forced fumble, which was recovered by defensive end Chris Long.
Long and Blount were both members of last season's New England team which won Super Bowl LI.
"We have great players and coaches in this locker room and I knew we'd be able to compete for this,"
Says Long. "We've earned this opportunity but that's all it is. We still have a lot of work to do."
Philadelphia had six players selected to the 2018 Pro Bowl: guard Brandon Brooks, defensive tackle Fletcher Cox, tight end Ertz, safety Malcolm Jenkins, tackle Lane Johnson and quarterback Wentz.
New England Patriots
The Patriots advanced to their NFL-record 10th Super Bowl by defeating Jacksonville 24-20 in the AFC Championship Game. New England, which won in last year's final are looking to repeat as Super Bowl champions for the second time in franchise history (XXXVIII and XXXIX).
Patriots head coach Bill Belichick and quarterback Tom Brady will be making their eighth Super Bowl appearance together, the most NFL title games for any head coach and starting quarterback duo in league history. Belichick and Brady have won five Super Bowls together, the most by a head coach and starting quarterback combination.
"You cherish these moments and opportunities,"
Says Brady. "I know we've had quite a few of them, which we've been very blessed to do. It's just been an unbelievable run and I think everyone should be really proud of what we've accomplished. I'm proud of our team. It's been a great year and it would be really great if we can take care of business in the next game."
Belichick has led the Patriots to five Super Bowl titles, the most in NFL history. With a victory in Super Bowl LII, Belichick will pass Pro Football Hall of Famer Vince Lombardi and tie Pro Football Hall of Famers George Halas and Curly Lambeau with the most NFL championships (six) in league history.


Brady, who is making his NFL-record eighth career Super Bowl start, is the only starting quarterback in league history to win five Super Bowls and the only player ever to be named Super Bowl MVP four times (XXXVI, XXXVIII, XLIX and LI).
Brady, who set a Super Bowl record with 466 passing yards last year, is the all-time leader in Super Bowl passing yards (2,071), completions (207), passing attempts (309) and touchdown passes (15). He is also the NFL postseason leader in wins by a starting quarterback (27), completions (892), passing attempts (1,416), passing yards (9,721) and touchdown passes (68).
In the AFC Championship Game, the Patriots overcame a 10-point deficit in the fourth quarter (20-10) as Brady threw two touchdown passes to wide receiver Danny Amendola to pull out the victory. Belichick and Brady have won four postseason games in which the Patriots have trailed by at least 10 points in the fourth quarter, the most in NFL history by a head coach and quarterback combination. No other duo has accomplished the feat more than once. The Patriots overcame a 19-point fourth-quarter deficit (28-9) to win Super Bowl LI last season.
"We all believe in each other," says safety Devin Courty. "This team is battle tested. We've gone through ups and downs. We've gone through adversity. You just have to keep playing. When you have a foundation that you can lean on, you don't panic. You understand and believe in each other and you just give yourself a chance to win."
Patriots running back James White, who scored three touchdowns (two rushing, one receiving) in Super Bowl LI, has scored six touchdowns (four rushing, two receiving) in his past three postseason games. Over the past two postseasons (2016 and 2017), White leads the NFL with seven total touchdowns and 44 points scored.
New England tight end Rob Gronkowski has 10 touchdown receptions in his postseason career and trails only Pro Football Hall of Famers Jerry Rice (22) and John Stallworth (12) for the most in NFL playoff history. Gronkowski's 856 receiving yards and 10 touchdown receptions are the most ever by a tight end in NFL postseason history.
The Patriots have recorded 11 sacks in the postseason, the most in the NFL. Eight different players have registered at least one sack in this year's playoffs, the most by any team. Three Patriots – rookie defensive tackle Adam Butler and defensive ends Geneo Grissom and rookie Deatrich Wise, JR. – have each recorded two sacks in this postseason. New England linebacker James Harrison has 11 career postseason sacks, tied for the fifth-most in the NFL since the individual sack became an official statistic in 1982.
The Patriots had four players selected to the 2018 Pro Bowl: quarterback Brady, fullback James Develin, tight end Gronkowski and special teamer Matthew Slater. Additionally, safety McCourty and tackle Nate Solder were named to the team as alternates.
Half Time Show
Global superstar Justin Timberlake will headline the Pepsi Super Bowl LII Halftime Show at U.S. Bank Stadium in Minnesota on Sunday, February 4.
A multi-talented actor and musician, Timberlake has won ten Grammys and numerous other awards. Born in Memphis, Tennessee, he rapidly became a highly respected musician, winning two Grammys for his debut solo album, "Justified." He's been recognized for a range of performances, including Best Male Pop Vocal Performance, Best Pop Vocal Album, Best Dance Recording and Best Music Video. Timberlake was most recently nominated for an Academy Award® for the song "Can't Stop The Feeling!" from the film Trolls for which he won his 10th Grammy.
A gifted actor, Timberlake has appeared in diverse films including: Shrek The Third and The Social Network. He has also won four Emmys for his appearances on "Saturday Night Live." Timberlake is a co-star of the upcoming film Wonder Wheel, which opens later this year.
This will be Timberlake's third time performing on the Super Bowl Halftime stage, giving him the distinction of having the most appearances by an individual entertainer. He previously performed at Super Bowls XXXV and XXXVIII. Back in 2004, Timberlake helped coin the phrase 'Wardrobe Malfunction' when he appeared as a guest during Janet Jackson's performance. In what was described as Nipplegate, Timberlake appeared to rip off part of Janet's costume to reveal her jewellery adorned breast.
Minnesota is the home state of musician Prince. Don't be surprised if there is a nod to the Purple hero of the town with some talking of a Prince hollogram.
Leading up to Super Bowl LII, fans may visit Pepsi.com for behind-the-scenes looks into Timberlake's journey to the Pepsi Super Bowl LII Halftime Show, as well as other surprises along the way.
Timberlake joins an esteemed list of recent halftime acts including Lady Gaga, Coldplay, Beyoncé, Katy Perry, Bruno Mars, Madonna, The Who, Bruce Springsteen & The E Street Band, Tom Petty and the Heartbreakers, Prince, the Rolling Stones, Paul McCartney, U2 and more.
The Pepsi Super Bowl Halftime Show is the most-watched musical event of the year. Last year's show was the most-watched musical event of all-time across all platforms and the most-watched Super Bowl Halftime performance in history through broadcast and digital channels, reaching more than 150 million unique people, garnering more than 80 million views and totalling 260 million minutes watched. Super Bowl LII and Halftime Show will be broadcast by NBC from U.S. Bank Stadium in Minnesota.
Super Bowl LII marks Pepsi's sixth year as title sponsor of the Super Bowl Halftime Show and 16th year as an NFL partner. Pepsi and the NFL have teamed again to provide fans with a halftime experience worthy of pop-culture's biggest stage.
The Officials
Gene Steratore will be the referee heading the Super Bowl LII officiating team on February 4 in Minneapolis. This will be Steratore's first Super Bowl assignment.
Steratore worked the Divisional Playoff game between the Saints and Vikings, which included a wild finish where Minnesota stole the lead with less than ten seconds remaining.
Steratore is also a Division I college basketball official.
Officials in the Super Bowl must be ranked in the top tier as determined by the new senior vice-president of officiating, Al Riveron. Their performance is graded on every call in every game and these are a large part of the ranking scheme, but there are other factors Riveron considers. Past practice has allowed officials who have not had a previous Super Bowl assignment but are near the top rank at their positions, to receive consideration.
Steratore is in his 15th season as an official and 12th as referee. This is his 12th postseason assignment, including 3 Wild Card Playoffs, 6 Divisional Playoffs, and 2 Conference Championships. Steratore lives in Washington and co-owns a janitorial supply business with his brother, Tony, who is the back judge for the AFC Championship Game.
Earlier this season Gene made headlines for his unorthodox use of his penalty card to check a first down.
The super Bowl crew has five officials that have worked a Super Bowl before, which is the most since Super Bowl XXXVIII at the end of the 2003 season when all seven had prior experience. Umpire Roy Ellison worked Super Bowl XLIII in the 2008 season; line judge Byron Boston was assigned to Super Bowls XXXIV (1999) and XLVII (2012); field judge Tom Hill officiated Super Bowls XL (2005) and XLIX (2014); side judge Scott Edwards officiated Super Bowl 50 two years ago; and back judge Perry Paganelli worked Super Bowl XLI (2006).
For more background on the way the officials are chosen for the big game, take a look at an article I did on last year's crew.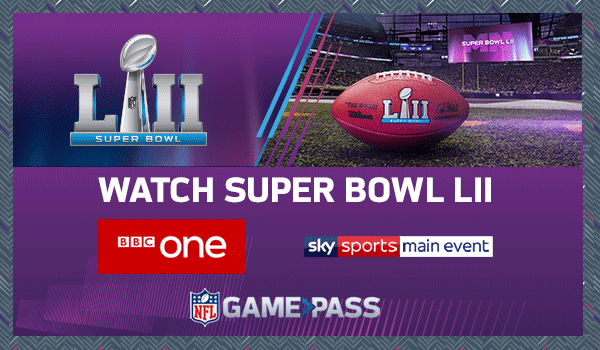 Where to Watch The Super Bowl
Fans in the UK can watch Super Bowl LII LIVE on BBC and Sky Sports Main Event.
Mark Chapman, Osi Umenyiora and Jason Bell are LIVE from Minnesota on BBC One from 11:20pm. Sky Sports Main Event will go on air LIVE from 10pm and will be joined in Minnesota by the Washington Redskins cornerback Josh Norman.
Want the full US experience for Super Bowl 52? If you haven't yet got Gamepass, then they are doing a monthly pass that could appeal.
The cost for the Super Bowl Pass in the UK is £14.99.
That includes NBC Super Bowl broadcast, in-game commentary (Michaels and Collinsworth) and studio panel. It also includes the Super Bowl commercials as they happen live, the full Pepsi Halftime show and the ability to re-watch the full game + Game In 40 replay as of Monday morning.
Plus, for those who buy on Feb 4th, as the Super Bowl Pass subscription lasts 30 days – this will take you until the end of the NFL Combine which you can watch via NFL Network, only available on the platform; along with access to all the 2017 NFL game replays and the entire NFL Network Library.
That's pretty nice way to get your football fix in the early days of the off-season for when you really love the game.
All in all, when you aggregate what you receive with the pass over 30 days, it's a pretty good deal.
Listen
TalkSPORT Radio will bring you LIVE radio coverage of Super Bowl LII from the stadium with Nat Coombs bringing you all the build up to the game throughout the week on talkSPORT and talkSPORT 2.
Be Social
Follow all the latest from Minnesota via the official Super Bowl Twitter account @SuperBowl as well as these hashtags #SBLII, #GoPats #FlyEaglesFly.
Comments
comments