DC's new U19 Editor, Alex Mclachlan, has wrapped up the 2017 Under 19s season with a first for the Junior game – an All-DC team!
While the Uniball world awaits the arrival of the 2016/17 All-DC in the preseason, Alex, in conjunction with U19 Head Coaches across the league, has put together an all-star outfit from across the league!
---
This list was compiled in conjunction with every (he pensively states) head coach in the league, with each suggesting opposition players who made clear impacts on their games. Congratulations to the young 'ballers who made the team, and commiserations to the many who came close.
NB: The number does not imply a ranking, it's purely coincidental. Now, without further ado…
Offence
QB: Sam Montgomerie, East Kilbride Pirates
As is perhaps fitting of the what is often seen as the most crucial position in the sport, this was one of the closest run of all the spots on the team. The likes of Birmingham's Rohan Sandhu and Highland's Euan Crawford may feel aggrieved, but Montgomerie became the pick for the team after his stunning performance in the U19s Britbowl.
On the biggest of stages, the young Scot answered his team's call, passing for over 300 yards and 6 touchdowns, guiding them to within four points of victory. This capped off his exceptional season in which he scored a combined 17 touchdowns, and guided his team to their second National title game. With one more year of eligibility under his sleeve, Montgomerie will have defensive coordinators the league over worriedly looking for ways to stop him.
RB1: Aaron Mahoney-Jones, London Blitz
Who else, but the Britbowl MVP himself. Aaron made it a point of pride this season to take apart the finest defences Junior football had to offer, running roughshod over both the Birmingham Lions' and East Kilbride Pirates' vaunted defences.
The final year man racked up 21 scores on the year, along with a near inconceivable 1500 yards, in just 8 games, topping out the year with a ridiculous near-350 yard performance in the National Championship.
Clearly one of the best players in all of Junior football this year, Aaron made a case to be one of the finest runners to ever grace this level of the sport.
RB2: Emmanuel Bawa, Birmingham Lions
With Britball generally presenting viewers with a superior running game, we decided that two 'backs deserved mention in our team of the year. Aaron Mahoney-Jones was not the only running back in the league this year who possessed an exceptional blend of speed, power and vision: Birmingham's Emmanuel Bawa too displayed these traits in abundance.
Whilst the young 'back has always been a handful, his year at Stirling University appears to have refined him into a truly elite player. Though he ran as part of a backfield committee, Bawa shone, accruing 8 touchdowns including a vital one to secure the Lions the National Plate victory.
WR1: Sam Parks, Merseyside Nighthawks
This 6'8, 220lbs behemoth of a receiver gave opposition defences a nightmare, with many having to game plan specifically for him.
His evident size, coupled with excellent technique (no doubt in part instilled by his time with the Derby Braves) makes Parks a dangerous receiving threat, particularly in the red zone. Whilst his stats on the year (8TDs, 650 total yards in just five games) are enough to validate his selection alone, his blocking also played a huge part in him making the cut.
Parks took evident pride in taking scalps in the run game, with crack-back blocks on linebackers really leaving their mark!
WR2: Tom Moore, Solent Seahawks
An explosive athlete, Tom Moore specialised as a big play threat in the Solent Seahawks offence, keeping opposing defenses on their toes, and ensuring that a score was always within his not inconsiderable reach.
Averaging over 17.5 yards per catch and 11 yards per carry on the season, Moore amassed over total 650 yards in just 7 games, despite coming up against the toughest defenses the south had to offer. It would be easy to assume that with such a dangerous weapon on the exterior, the Solent offence could become one dimensional.
However, Moore's explosiveness does not preclude him from being a great blocker (clearly something which played a big part in voters' minds, reading some of the nominations for Moore so far), which in turn allowed his team to be successful in the running game also, particularly to the outside.
WR3: Struan Bailey, East Kilbride Pirates
An exceptionally difficult decision faced us with this pick: Bailey and fellow Pirates receiver Fraser McDonald received the same number of votes, had equally impressive Britbowl performances and even scored the same number of touchdowns on the season!
However, a slight advantage in regular season yards gave Bailey the edge, and a thoroughly deserved place on the team. A terror for opposition defences, Bailey accrued over 400 yards through the air, despite the Junior game's preference of running the ball. He also amassed 7 touchdowns, and notably had three of these against the London Blitz in the Britbowl itself.
OL1: Harry Elton-Dobbin, Solent Seahawks
It is a commonly held belief that linemen never get any love in this sport. Skill positions hoover up all the glory, with their statistical merit making their impact clear.
However, as any member of Britball will know, big, athletic bodies are worth all of their considerable weight in gold this side of the Atlantic.
Not only does Harry Elton Dobbin tick that box, but his technical aptitude has been on display all season long.
Honed over his four seasons at the Seahawks, and one at the University of Birmingham, Elton Dobbin's combination of size and skill has wreaked havoc on opposing defenses, and the occasional offensive lineman when he dons his silly little four-point stance on D.
OL2: Rees Britt, Nottingham Caesars
A real mauler on the offensive line, the Nottingham Caesars guard used his final year of Junior eligibility to good use, creating monstrous holes for his team's running game.
Rees, who plays for the University of Sheffield Sabres through the winter months, was a cornerstone of the Nottingham Caesars offence this year, and played a huge role in getting them to 6-0 in the regular season.
With the team scoring 23 of their 28 total offensive touchdowns on the ground, spread between six separate players, the dominance of their O-line in the run game is clear.
Britt's standout game came against the Manchester Titans, in which he was instrumental in orchestrating the Caesars' victory, largely nullifying the Titans' physical defence.
OL3: Hamish Elliot, Kent Exiles
Whilst Kent's team appeared to suffer from somewhat of a Britball hangover, one man who certainly didn't suffer a downtick in performance was behemoth offensive lineman Hamish Elliot.
Elliot, who has been with the team through thick and thin now, played a huge part in making the Kent offence tick despite the loss of some of the team's key pieces.
Of particular note was his impact in the first game of the season, in which he was instrumental in getting the win over the eventual Southern Trophy winning Solent Seahawks.
Defence
DL1: Joseph Hurley, London Blitz
As will come as no surprise to anyone who watched a Blitz Junior games this season, our first defensive lineman comes from the disruptive front that caused many a restless night to the southern quarterbacks of the league.
Blitz's #50 combined his great size with exceptional first-step quickness and technique, putting opposing Quarterbacks under consistent and intense pressure.
Hurley also aided his team on the scoresheet, turning his hand to scoring touchdowns (two, to be precise), when he grew tired of simply preventing the opposition from scoring any of their own.
DL2: Ally Gibson, Highland Wildcats
It's about time a Highland player was mentioned! A big reason for the Scottish team's success this season – winning the Northern Trophy – was the staunchness of their defence. Never conceding more than 20 points to a team south of the wall, the Wildcats extended their dominance over British teams to over two years, and Gibson's consistently effective setting of the edge allowed this. Not content to only ply his trade one way, however, Gibson proved highly successful as an offensive lineman too, garnering votes for the team for that role also. A two-way player of such calibre is clearly worthy of his spot on the team.
LB1: Craig Sanders, East Kilbride Pirates
We were unsure where to include East Kilbride's imposing #58: is he a defensive end or an outside linebacker? In the end, we, and the other coaches around the league, decided we didn't care where we put him, as long as he appeared in our team of the season. A key component in Sanders' selection was his incredible ability in playing the run. Exhibiting technique rarely seen at the Junior level, coupled with impressive size, Sanders was rarely beaten around the edge, forcing innumerable tackles for loss. However, Sanders was far from just a solid run-stuffer, as he also excelled in splash plays, which frequently changed the course of games in the Pirates' favour. Not only did he amass an astounding 10 sacks, but he also forced a fumble, blocked two kicks on special teams, and scored two defensive touchdowns, including a crucial one against the Nottingham Caesars in the National semi-final, to give his team the victory.
LB2: Michael Wathen, Birmingham Lions
Congratulations to LB Michael Wathen for his MVP award in the Plate Championship. Well deserved. #GBNext

— Birmingham Lions (@BirminghamLions) August 27, 2017

It is an impressive feat for any player to make this list, given the level of competition and scarcity of places. What makes Michael Wathen's inclusion even more impressive is that this middle 'backer is only 18 years old and in his first year of junior football.
Displaying ability far beyond his years, Wathen made a name for himself as a rangy linebacker, making tackles from side-line to side-line, and delivering bone-jarring hits when he got within range of his target.
The young Lions linebacker also excelled in the passing game, matching up well with tight-ends and receivers alike, to totally shut down opposition offences.
These skills were on full display in the National Plate final, in which he not only played an enormous part in shutting down the Caesars run game, but also had the game-sealing interception late in the fourth quarter. This impressive performance led to him winning the game MVP award, and cementing his place on this team!
LB3: Nic Bergamaschi, Solent Seahawks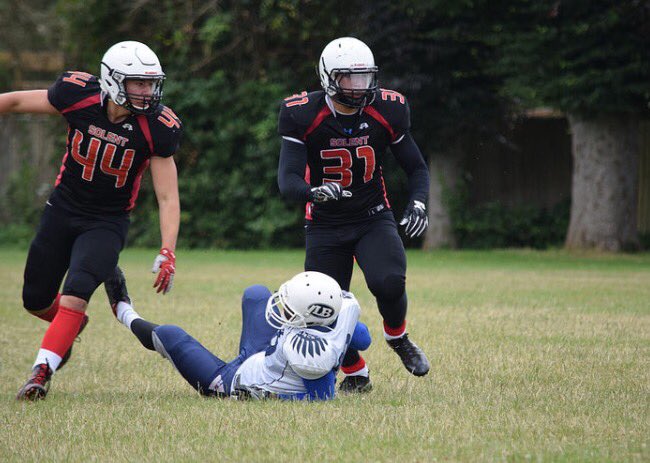 In a league where the running game is king, nothing is more valuable than a linebacker who can shut it down.
Bergamaschi proved that he is one such player, consistently stepping up to face some of the best 'backs in the league (in fact, both of the guys who made our team of the year).
For proof that he could compete against the very best that the Junior game has to offer, one must look no further than the Seahawks game against the London Blitz. Going into the fourth quarter, the Bergamaschi-led defence had held Aaron Mahoney-Jones (whom we have heaped our praises upon already) to a pedestrian 60 yards, before injury ended his game and his season.
Without him on the field, Mahoney Jones was unleashed, and went on to score two long touchdowns, to seal the game. Some more calcium in the young man's diet could've changed the course of that game (poised at 14-12 before Bergamaschi went down), and perhaps the whole season, with the Blitz being out of the championship playoffs if that result had swung the other way.
LB4: James Schofield, Chorley Buccaneers
When it came to linebackers, we wanted to leave the least well known (due to his team not qualifying for the postseason), but arguably the best, 'till last.
Schofield played both offence and defence, and as such he could be forgiven for suffering from fatigue, and thus having a statistical drop off. It is to be expected, too, that Schofield's stats might not compare to those who played more games than him, due to his side's playoff situation.
However, all of those assumptions would be proved immediately wrong, upon further inspection. A player with gaudy stats in all areas, we're just going to allow the numbers to speak for themselves in this one.
6 games. 85 tackles. 8 interceptions. 14 tackles for loss. 4 forced fumbles. 4 fumble recoveries. 1 spot in our team of the year.
DB1: Lewis Parker, Manchester Titans
Manchester Titans' #24 makes an impression as soon as he steps on the pitch: not because of his enormity, like other members of this team, but instead because of his hair.
Sporting a dazzling afro, you'd think the young man's style would make him obvious to opposition quarterbacks, hence warning them away.
This does not appear to be the case however, with the ball-hawking corner accruing four picks on the year, in just seven games.
However, Parker is far from a shrinking-violet when it comes to tackling, also. The Titans pride themselves on the tough tackling nature of their 'big blue wrecking crew' and Parker was no exception.
The young DB, who doubled as a strong safety, excelled at bringing down ball-carriers – a rare asset for corners at this level of the sport.
DB2: Luca Melero, Nottingham Caesars
Unlike our previous entrant on the list, this young defensive back does not often draw the eyes of his opponents. Weighing in at a mere 135lbs, this diminutive corner is not one that should be underestimated, however.
He may not have the flashy statistics to make this selection glaringly obvious, but Melero formed a key part in the Caesars secondary that performed at an elite level all year. They largely contained some of the best aerial threats in the country throughout their season: conceding no passing touchdowns against our all-DC QB and receiver pair from East Kilbride, and only seven in their eight fixtures.
Melero's other gift is his deadliness with the ball in his hands. Though he returned only one punt to the house, he consistently made big yardage on both his interceptions and returns, setting up his offence with great field position.
DB3: Antonio Costa, London Blitz
Rounding out the trifecta of hard hitting DBs on our team comes Antonio Costa, the London Blitz's enforcer on the back end.
The Filton-trained safety brought a winners' mentality to the capital, roaming the field, looking to put his mark on ball carriers.
To that end, Costa forced three fumbles on the year, separating the ball from the man, and often the man from his cleats. Along with that, Costa had two fumble recoveries, as well as three interceptions, one of which he took to the house.
A combination of physicality and ball skills amounts to the perfect way to round out our defence.
KR1: Jack Cochrane, East Kilbride Pirates
Now some would call this a cheap inclusion, but historically impressive feats deserve recognition.
The Cochrane scored on special teams in every single regular season game that he took part in, bar their regular season finale, and were it not for flags he would've had a further two scores in the Pirates' semi-final.
That alone deserves a spot on the list, but when you couple that with his receiving and defensive work, his inclusion is clear.
Cochrane caught two touchdowns, and even more impressively for a return specialist, had six sacks and four forced fumbles as a speed rusher.
With this combination, we felt Cochrane certainly earned his spot as a special teams specialist on the team.
---
What do you think of the 2017 Under 19's All-DC team? Were there players we missed out? Should we have published a second string too?
Let us know your thoughts down below, or @Dbl_Coverage on Twitter!
Comments
comments