#Uniball | Friday Fixtures Update, Week Five
Ahead of this weekends games, a few updates with rescheduled fixtures and omissions on our part!
Kingston/Reading pushed back
As mentioned in our predictions article, this game has been postponed until 21 January 2018 following a unexpected departure from the Knights' family.
Our thoughts and those of the Britball Nation go out to the Reading players, coaches, friends and family, and all those effected by this tragic loss.
Oxford Derby delayed
The Oxford Lancers @ Oxford Brookes Panthers fixture has been pushed back to February 4th, to allow the two local rivals to play one another on Super Bowl Sunday.
A long time tradition in Uniball, the scheduling allows the teams to follow up a hard fought rivalry game with a short trip home ahead of the 'other' big game.
YSJ Jaguars season kick off pushed back once more
The YSJ Jaguars have already seen two of their fixtures pushed back as they prepare to kick off their BUCS American Football life, and this weekend it appears the weather is not on their side either, with the YSJ Athletic Union reportedly declaring the Jags' pitch unplayable.
There's still one last chance for the rookie outfit to get their season underway this side of Christmas – travelling away to the table-topping Newcastle Raiders in Week Six.
Keele Manchester to be postponed following mid week departure of Crusaders Head Coach
Late update on this one, as we're hearing the Keele Crusaders have postponed their game against the undefeated Manchester Tyrants, following the resignation of their Head Coach, Nick Thompson, earlier this week. While the Crusaders have acted quickly to reshuffle their coaching staff following Thompson's departure – appointing Nathe Owen as a Player-Head Coach – it's understandable that the club might wish for some time to adjust to this new regime.
It's notable however, that with the Crusaders currently scheduled to play games in Weeks Six, Nine, Eleven and Twelve, and the Tyrants already scheduled to play Aberystwyth in Week Ten, that it could be a tight squeeze to get this fixture rescheduled into 'standard' weeks of the season – the rarely used Week Seven, or an early start back in January, the only remaining possibilities.
And the one's we missed…
A scheduling error on our part meant we had Warwick hosting Leicester in back to back fixtures, and missed this one off the slate.
Similarly, we weren't aware that the rained-off Bangor vs Aberystwyth Week One fixture had pencilled in for this Sunday.
Our bad, and apologies for missing those ones yesterday… but never fear, some hastily researched predictions are here!
Warwick Wolves vs Nottingham American Football
A year ago, and the Wolves/Notts fixtures appeared to be the key match ups of the 1A Midlands – with NTU shifted up to the Prem, Warwick were expected to be the only side capable of stalling the upgraded Nottingham programme's march to the postseason…
And indeed, they provided a couple of entertaining games, in a regular season that the Nottingham outfit otherwise barely broke a sweat.
They were the only team to put up any touchdowns at all against the erstwhile Outlaws in the regular season, falling short on both occasions, but responsible for 35 of the 40 points UoNAF conceded last year.
However, here in the 17/18 season, and it's going to be tough sledding for the Wolves to match up to the standards they set last year.
All signs are that the offseason has not been kind to Warwick. Their veteran QB has graduated, and the struggle to plug other key gaps has seen them open the year 1-1, with a thumping loss against recently relegated NTU, followed by a too-close-for-comfort victory over the currently winless Staffordshire Stallions.
As such, with Nottingham potentially looking even stronger that their 16/17 iteration, and coming in hot off the back of a huge win in their rivalry match up?
Well, 'any given Sunday' and all that… But from an observer's perspective the goal for the Wolves is likely to see how long they can keep the Nottingham starters on the field.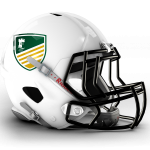 Tarannau Aberystwyth vs Bangor MudDogs
It's never too much of a surprise to see the welsh winter put pay to a few games each season, and so kudos to the Thunder and MudDogs for working to get this one back on the slate so swiftly.
For the MudDogs in particular it's a bold move to accept a fixture for this weekend, as it'll be the Bangor side's fourth straight game.
They come into this game following a season low – a shut out loss against the unstoppable looking Manchester Tyrants – but then perhaps a Welsh rivalry fixture is the perfect way to bounce back and get the season back on track?
They opened the year with a solid win over Liverpool, who in turn made short work of Tarannau back in Week Three, so common opponents certainly has the MudDogs coming into this game as hot favourites.
Indeed, Aber will also be viewing the game as an opportunity to right the ship – they're headed to Week Five with only a single fixture completed due to their Bears fixture being called off, and they'll be eager to head to the Christmas break with something more than a 38 point loss under their belts.
Christmas Turkey tastes an awful lot better when it follows some first half of the season points…
Which means we're thinking the 'Dogs are likely to have the tastier turkey, as while Aber should make a game of it, the MudDogs have a proven record of finding paydirt already this year.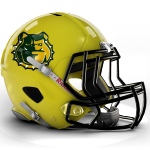 Comments
comments