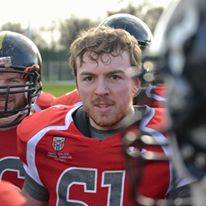 Hassan Rashed
Hassan is coming into his third year with Team DC after joining back in 2014, contributing regularly to predictions for Uniball and occasionally to Senior Ball.
He has been playing since 2013, representing and captaining the King's College Regents until 2016, managing to earn a trial for the GB Students team despite being regularly described as the "smallest lineman in the country".
He has also been playing with the London Blitz since 2014, and was part of the Under-19 side which won the National Championship the same year.
Though currently studying for a MA in Newspaper Journalism at City University, Hassan is still involved with the Regents as an OL Coach