Five Things I Learned From Uniball
James Campbell has written a piece looking back at the lessons, relevant both to the game, and to life in general, that can be learnt when experiencing our sport at the University level. 
If you're interested in sharing something with the Britball community, DC might be a great platform for you - just get in touch via [email protected] or via our Facebook page.
---
Five things I learned from Uniball
by James Campbell
I remember the Sports Society Fair, vividly. I'd seen the American Football team throwing the ball around campus in their jerseys, and I signed up, with an open mind. I guess you could say, I didn't really know what to expect. I watched the NFL but I never imagined I would be able to play.
Looking back as a graduate of two years now, I am so glad I did. Signing up to play was easily the best decision I made during university. Here's a few things I learned along the way:
1. There's a position for everyone.
It would be an understatement to say I was undersized. I was barely 5ft6, 130lbs, soaking wet. I kept fit by going to football (soccer) training, cycling and running, but I was looking for a challenge.
Fitness and training hard were my calling cards. I remember a team-mate, who played on the offensive line, that it was the first real sport he felt he could play. For the first time, he felt valued. We played against female ballers too, and a year after I left, the university had a female player.
2. "You don't always get what you want, but you always get what you need"
This Nick Saban quote fits so well, I had to use it. A lot of rookies, many of whom have had to cram like crazy to get up to speed, and who are either about to, have just experienced their first game, may be a little disheartened if they don't get any or much game-time.
Don't be.
Game reps have to be continually earned. You have to show up in practice, in film-room and chalkboard sessions to get the trust of coaches and team-mates. If you start, you have to do the little things right; if you're on the bench, you have to be ready to go at any time. If you're a rookie, learn from your veteran team-mates, they've been there.
One of my teammates got no game time in his first year until the last game of the season and that was on special teams. He always went to practice, always went to work. Did extra sessions with the QB, other wide receivers, and some of us defensive backs. It took time… but it does pay off. He got more game time his second, third and fourth years, and finally got his first touchdown last year, in his fifth year, as a grad student.
Another teammate of mine, a fellow defensive back, just kept evolving, turning into a shutdown corner, then a game-wrecking hybrid safety/linebacker. He did so much, and again, he did so by putting in some serious work, watching film, going to the gym.
You have to remember, American Football isn't like many team sports where there's eleven on the field, but maybe only fifteen people on the team. New players need to learn the game before they step out onto the field, and sometimes the best place to do that is on the bench.
I enjoyed the mental side of the game but it took a while to get to learn the finer points of the game, and technique and such. My catching is night and day better than what it was. This game is a craft to work at and get better. It takes a while, so you have to trust the process.
3. You have to have a short memory, and learn from your mistakes.
Those two points may sound contradictory, but bear with me.
I played cornerback in a 4-4 defence my rookie year. My 'Welcome to Football' moment was, quite literally, making one false move: taking pre-snap step towards my receiver on like the second or third defensive snap of the game… The receiver burned me like toast on a 30 yard reception. It was awful. Having to go back to the sideline, knowing you've let everyone down. I got one more snap the whole game and I can't lie, I felt like crap.

However, looking at the starters I noticed something - it wasn't that they didn't make mistakes. And it wasn't even that when they made them, they didn't express frustration at themselves and teammates… But, the best of them, come the next play, acted like nothing had happened.
In training as well as the games, you have to have a 'next play' mentality. You have to move on quickly and you can't let the previous play define you. Don't let your head drop, but at the same time? Learn from the mistakes you made. You have to learn to trust your coaching and remember that you're not alone. Everyone will make mistakes, but the best bounce back really quickly.
Still, I had to earn back everyone's trust. You do this by stepping up - going to practice, even when it's that inevitable week midseason when the weather's trash and half the starters don't even show. You put in extra work outside of training by going to the gym - even if it's not your forte. A stronger fitter you is a better football player.
4. Things won't go as planned.
I learned so much in my final year. I came back from a year abroad, and found myself at the bottom of the depth chart. I had uh, 'bulked up', but it took a while for my conditioning to come back. I wanted to give back to the club and was on the team's committee, but I barely saw the field.
I got a few reps, mostly at the end. I was slowed by knee and foot trouble and it was so frustrating, but I tried to make the best of the situation. If I wasn't able to train, I went to chalkboard and I went to practice to get mental reps in, which are so important. I wanted to help the rookies, as best I could. I wanted to point out things in film. You may have come into the game with dreams of being hoisted on your teammates shoulders as you score the winning touchdown, but the reality is there's an awful lot of other important contributions you can also make.
They call American Football the ultimate team sport. And that's because sometimes, it simply won't be about you, but what you can do to for the team.
5. Uniball is for life, not just for Uni.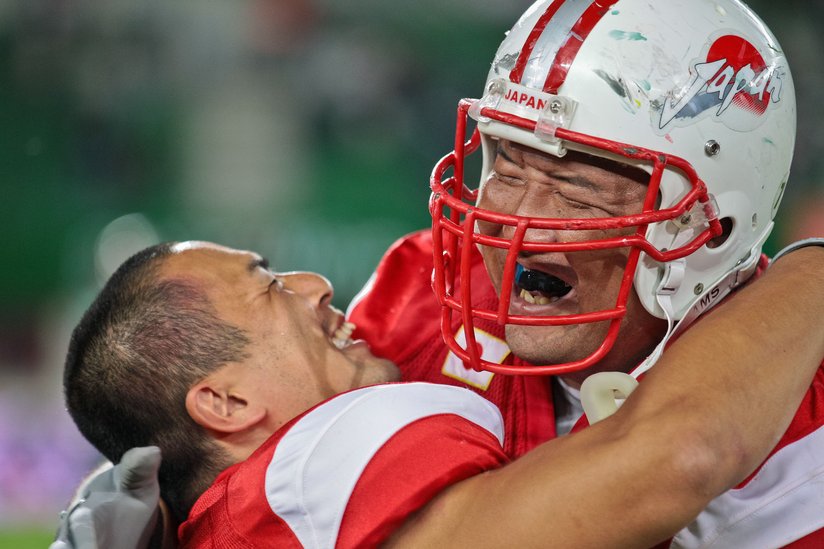 I'll keep this short. Pretty much what it says on the tin.
Odds are you're not playing football to stand out to scouts and earn a spot in the NFL draft. You're playing to have fun and make friends. Don't lose sight of that, involve yourself with your team and you could be onto something incredibly important: friends for life. Get this part right, and through thick and thin, your teammates will be there.
In my time, our team went through some real highs and the lowest of the lows. You have to lean on each other, and depend on each other. Have fun on nights out, go do things as a team as well as a position group, but when it's time to go to work, go to work.
Hope you all ball out!
Comments
comments