NFL Focus: Eagles' Thursday Night Analysis
Johnny Cumbleton (@Cumbleton) takes a look at the Eagles chances in a preview of this week's Thursday Night Football
Keys to the Eagles beating the Giants
The Philadelphia Eagles are the reigning Super Bowl Champions and that's a great feeling for an Eagles fan who stuck with the team through the Rich Kotite years. The problem is that, for a team returning most of their starters, the Eagles have not been performing. A lot of the early woes were explained away by the absence of Carson Wentz. Now three games into his return those problems persist and the Eagles find themselves with a 2-3 record. So how can they rebound against their NFC East rival, the New York Giants?
Stay Healthy
This sounds obvious but the Eagles suffered a significant loss at the start of the week with the announcement that Jay Ajayi will spend the rest of the season on injured reserve after tearing his ACL. This was added to by ongoing injuries to defensive tackle, Haloti Ngata, who misses his second game and running back Darren Sproles is absent, as he has been since Week 2.
To make matters worse Philadelphia reserve linebackers D.J. Alexander and Nathan Gerry will miss the contest against the Giants. This leaves the Eagles going into this game with only one backup linebacker, LaRoy Reynolds. Expect the Eagles to minimise to spend even more time in Nickel and Dime defences.
After starting last weekend and being exposed on several key plays, safety Corey Graham will miss time with an injured hamstring. It's a good job then that the team are high on rookie Avonte Maddox, drafted as a cornerback, as he will start at safety. Their backups will be Deiondre` Hall and Tre Sullivan, activated on Wednesday. Needless to say, they need to stay healthy.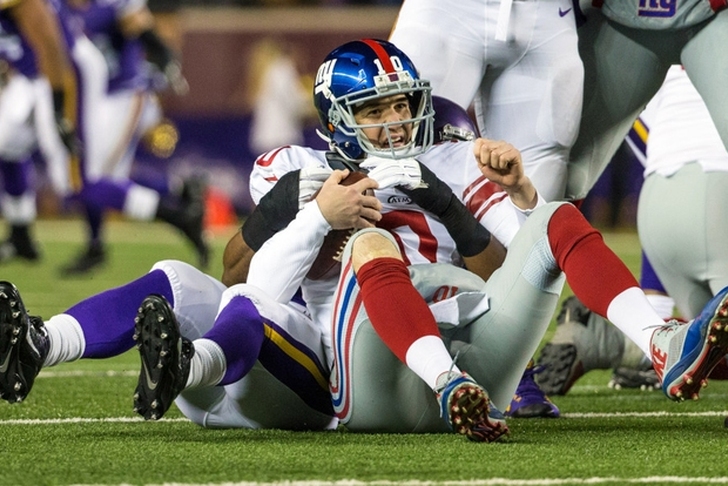 Sack Eli
The Giants have invested significant resources in their offensive line. To start with they made Nate Solder the highest paid offensive lineman in the NFL and drafted Will Hernandez. To cover injuries at centre they signed John Greco and brought in (overpaid for?) free agent Patrick Omameh. Having finally admitted their mistake, the Giants cut Ereck Flowers. Starting in his place is Undrafted second-year player Chad Wheeler at right tackle. Despite this, they have been terrible, with only Hernandez showing promise.
Looking at the Eagles, they have what is largely regarded as one the best defensive lines in the NFL. While they have not reached the quarterback as often as I'd like (they have just eight sacks in their last four games) they should overpower the Giants and hit Eli early and often. They are deep at defensive end, have superstar tackle Fletcher Cox and face a Giants offensive line that has allowed Eli Manning to be sacked 16 times. Cox, Chris Long, Brandon Graham and co must dominate for the Eagles to win.
Run The Ball with Limited Resources
Doug Pederson said "I love to run the football," in a recent press conference. Great. He then went on to say "I think our guys are good at it, and we've been successful at it. But at the same time, we can't get behind in football games because sometimes the running game won't allow you to get back fast enough."

I disagree with this to some degree. Against the Vikings, Philadelphia did not run the ball often in the first half. It wasn't until the second half, when they committed to the run, that the Eagles had success. Running the ball opens up the passing game by preventing teams from covering constantly. It also opens up play action passes that can produce beautiful big plays. Those big plays have been minimal for the Eagles offense thus far in 2018.
On Thursday night the Eagles face a Giants team that have allowed 124.4 rushing yards per game (sixth-worst in the NFL). Despite having lost Jay Ajayi for the year and missing Darren Sproles I expect the Eagles to run the ball effectively. Corey Clement says he's ready for an expanded role and I look forward to seeing what he can do with 12-15 carries. Behind him, Wendell Smallwood has fought his way back into the Eagles thinking with several consistent performances and rookie Josh Adams will look to flourish in an expanded role.
Stop The Giants
This season the Philadelphia pass defence has been 'bend don't break' too often. Though they have kept the Eagles in games they have also failed to stop the pass, especially in key moments. Against the Vikings, they allowed Kirk Cousins to complete 30 of 37 passes on his way to 301 yards passing. While Jalen Mills has been targeted for the lions share of criticism, poor positioning, missed tackles, blown assignments and lack of communication have plagued the defensive backfield all season. In Week 5 a defence that already had issues saw how much they will miss Rodney McLeod.
It's imperative they improve despite the short week. Odell Beckham Jr. already has three 100-yard receiving games. As dangerous as Saquon Barkley has been running the ball, he is an exceptional weapon out of the backfield who is averaging 8.8 yards per catch. Sterling Shepard has consistently scored for the Giants every time he's played the Eagles. The coverage must be better for Philly to even their record at 3-3.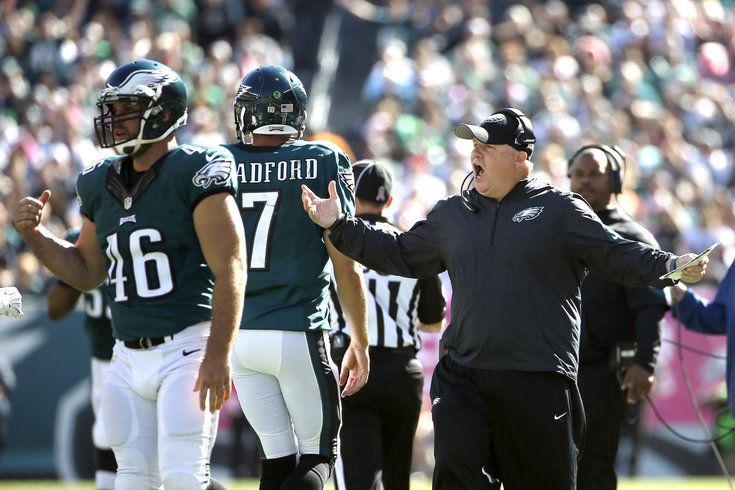 Cut the Penalties
The Eagles are killing their offence and extending opposition drives with penalties, especially in key moments. They are averaging 8.6 penalties for 79 yards a game. That's a huge problem to overcome. They have repeatedly found themselves in third and long situation as a result and have failed to convert. Giving away needless penalties means that both offense and defense have to work that much harder; have to cope with that much more pressure.
While tonight's game is one that the Eagles should win, they must address the problems I've highlighted. If the defence pressures Eli and the Eagles backs are able to clock up 120+ yards collectively Philly will right the ship. At least for one more week.
Comments
comments