xpLosION 2018 Preview | Birmingham Lions vs Swansea Titans
It's the biggest event of the Uniball calendar - at least in terms of fanfare, and certainly, in terms of attendance - xpLosION is the Birmingham Lions' esteemed annual event, and a great advert for the British game. 
Hosted by the Lions each year, typically early in their season, the event combines a top tier BUCS showdown with extra fanfare and fireworks, typically drawing crowds in the thousands - something so rarely seen at modern Britball games.
Kicking off at 1630 on Saturday 24 November, the free to enter event is hosted at Bournbrook Pitches in conjunction with Digbeth Dining Club and will include performances from the University of Birmingham Pussycats, Birmingham University Dance Society, a massive fireworks display… and of course what looks to be a particularly tasty matchup, as the Lions host the similarly undefeated Swansea Titans - with the victor able to sit unchallenged atop the Premiership South once the smoke has cleared!
As such, alongside our Games of the Week, we're going to borrow from that format to take a closer look at xpLosION 2018!
We'll start off with meeting the teams:
The Birmingham Lions
Many currently in the British game may well not remember a time when the Lions weren't the powerhouse outfit we know them as today, but in fact the Lions are a team built upon many years of middling success.
Though they entered the league with a bang, reaching a National Championship game in their first league season in 1990, it'd be another 15 years before they'd get another crack at the title.
They found their form in the mid-noughties, Head Coach Wayne Hill leading team to its first National Title in 2004/5. With an awe-inspiring six undefeated regular seasons in seven years, the Lions were building to become one of Britball's most consistent and sustainable programmes - and following taking the reins in 2007, Head Coach Tony Athersmith would go on to lead to the Lions to back to back National Championship victories in 2009/10 and 2010/11.

In a record-setting streak of six straight Unibowl appearances, the Lions would pick up a further Title in 2012/13, before falling short in semi-finals of the 14/15 season to a dominant Stirling Clansmen side, who were themselves on their way to back-to-back National titles.
It appeared as though the Lions' light might be fading, as the growth in the number of scholarships in the British game particularly seemed to be allowing the ascendancy of the Premiership North, and as such - despite their incredible accomplishments as a programme - it was rather an upset when returned-Head Coach Wayne Hill's Lions emerged once more at the top of the British game in 2015/16 with a 19-13 victory over the Clansmen.
The Championship victory was the birth of Birmingham's 'Built not Bought' slogan, a hashtag that perhaps isn't as well understood as it deserves to be… Because if there's one thing the Lions have been truly successful at, it's pioneering the way for a University team to build a fully fledged, multi-discipline Britball programme around itself.
While many University programmes look only to themselves, and essentially only exist in any substantive form between October and March before 'hibernating' through the summer, the Lions have developed their organisation and brand to form a stable and sustainable hub of Britball around the core University programme. Their U17 and U19 outfits are regularly contesting silverware, and the Women's team is, best as we can tell, the only team in the Britball Nation with an undefeated domestic record! The Lions let us know they have indeed suffered a single defeat, to the RHUL Bears Womens team in 2014… but still, one domestic loss since inception is pretty incredible!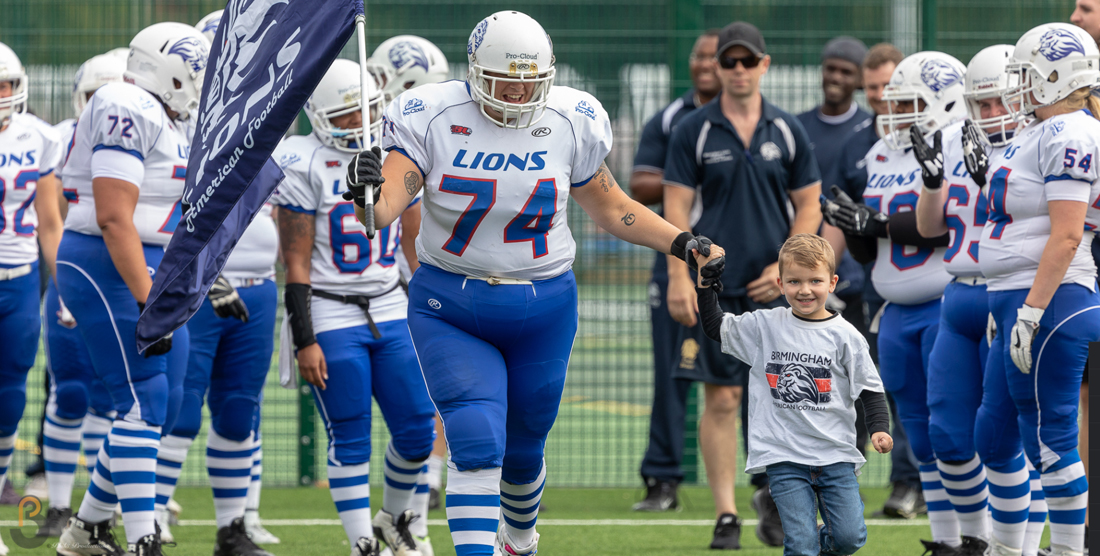 You only have to look at the number of 'rookies' that join the Lions each year with experience of the game at U17 and U19 levels, to know the Lions are definitely doing something right, and though the Uni team have hit hard times of late - falling at the first hurdle in back-to-back postseasons to the Derby Braves - its tough to criticise the way this programmes been put together, and the great benefits it brings to the British game as a whole in the development of talented young footballers.
The 2018 offseason saw a changing of the guard, as longtime Lions playmaker Greg Freeman stepped up into the Head Coach role. Questions were immediately asked of the Coach Hill protege as the Lions opened their season with a more modest than expected victory over the Destroyers, and the Birmingham outfit were once again forced to prove their resilience the following week in a shootout against the UWE Bullets - coming from 8-20 down ahead of the half to take the game 40-34.
Coach Freeman shared with DC that he's been impressed with how quickly the team has come together given the various changes over the offseason, both within the Lions and at other outfits.
"The season so far has probably gone even better than we imagined it would, given our own offseason changes, but also the addition of a number of scholarship players to the UWE Bullets - the first time we've really seen the inclusion of US scholarship players in the Premiership South.  But the way our players have really embraced these changes has really taken us to the point where we can confidently say we're going to compete this season."
Club President Charlie Pearson agreed that their hard-fought start to the season has been key to building strong bonds:
"This is my fifth year with the Lions, and this by far the most cohesive team mentality we've had in my time here. I think that showed especially against UWE - a lot of people had written us off either pre-game or when we fell behind, but we put in a massive team performance, scoring on O, D and Special Teams.
Both against Portsmouth and UWE we have come from behind to win, but at in no point in either game did we feel we were going to lose - it's a strong team bond and I'm thoroughly enjoying being part of it!"
They've certainly proven they can win through adversity, but might the bright lights of xpLosION have any impact on the Lions' players this weekend? Having only ever lost their marquee event once in its existence - a shock defeat to the Bath Killer Bees in 2016 - there's a lot of pressure on the outfit to perform in front of the home crowd, and while in previous seasons many might have considered accusing the Lions of organising their showcase game to coincide with one of their softer matchups on the schedule, this year the undefeated Swansea Titans are coming into the game looking to be on fine form.
However, Coach Freeman told us that for many of the Lions they're more used than most to playing in front of a large crowd.
"We're not doing anything different going into xpLosION - a lot of the guys have obviously had the experience of playing in front of that many people before, so it's just a case of treating it like a normal game. You do have to accept there's going to be a lot more people there than normal, soak in that experience, but then when you're actually out on the field you don't notice it so much."
Ones to Watch
Though the Lions have had to deal with several key losses, including defensive standout Will Stone and workhorse running back, Elliot Walters, other players are stepping up to the plate to put in impressive performances so far in this young season.
GB Lions Cornerback, Bristol Pride Alum Eddie Onamade has made his presence felt, including two picks against the Bullets, one of which was returned to the house, while the other effectively closed out the game for the W.
Offensively, Captain and Wide Receiver Dara Adedayo has proven himself a weapon this year, with elite quickness that lead to two scores against the Bullets, while Lions U19s graduate Rohan Sandhu has shown a lot of confidence coming into this season.
Coach Freeman shared:
"Rohan has shown great development these past eight weeks - his management of the game and his ability to lead the team down the field has really taken shape, he's very much becoming the Quarterback that we know he can be."
Sandhu's ability to drive the offence down the field came to the fore against the Bullets, as he lead the team with four touchdowns against the Bristol outfit.
The Swansea Titans
Compared to a team with the venerable pedigree of the Lions, the Swansea Titans are young upstarts who've seen a rapid rise up the Britball ranks since entering the league less than a decade ago.
Though they may have no National Titles to their name yet, it only took them a few years to find their feet in the ever-hotly-contested south-west region. Playing their first league season in 2009/10, they saw their first postseason appearance in 13/14 - riding it all the way to a convincing National Trophy victory over the Royal Holloway Bears.
Just two seasons later they followed this up with promotion to the top tier of the British game, winning another National Trophy title in a narrow win over NTU, and impressing further when they exceeded expectations by not only avoiding being immediately beaten back to Division One football, but actually posting up a winning record in their inaugural season in the top tier!
A narrow loss to Loughborough put an end to their playoff run before it got started, but they'd turned heads by being competitive right out of the gate - including a surprise win over the Hertfordshire Hurricanes that were otherwise on track for an undefeated season!
However, the following offseason saw a number of departures from the Titans, including star running back Jacob Amadi graduating and going on to a postseason scholarship with the University of Nottingham, and Head Coach Nick Keyse, who'd lead the team through five-straight winning seasons, stepping down from his role.
As such, former Titans Linebacker and new Head Coach Adam Salter had some big shoes to fill as he stepped up from his role as Defensive Coordinator.
A weather disrupted campaign, combined with a voided win over the Destroyers, saw Swansea frustrated by an eventual 3-3 record in their season in the top tier - and though their three losses each came by less than a score, it was no consolation to the Titans as they were forced to make the long march up to Stirling for their quarter-final showdown.

A brutal 40-14 defeat has left the Titans eager to avoid an away-berth for the playoffs this year, and so far they're right on track. They opened their 18/19 campaign with two big wins - outpacing the Hurricanes in Week One, before shutting down the Destroyers, 0-20, the following Saturday.
Coach Salter still feels the Titans haven't yet shown their full potential in either match up, with first one, then the other side of the football not quite performing to expectations:
"It's been a bit of a mixed bag in terms of our performances. In the Herts game our defence didn't perform to the level they expect of themselves. In the Portsmouth game our offence really struggled with a few guys missing and the weather conditions and we were disappointed it wasn't a more impressive scoreline.
We've put ourselves in a good position in terms of results, but nothing more than we would have expected. That said, beating Herts was important for us as a team, after coming up short in the 4th quarter both games last year. They're always a tough team to play and have some amazing playmakers on offence."
Team President, Luke Wheadon similarly emphasised that the opening day win over Herts was an important one for a Titans side that aspires to be contesting the top of the conference this season:
"We felt Hertfordshire could well be our biggest test of the season and so coming through that opening game against Herts with the W and getting a convincing shutout against Portsmouth on an awful bog of a pitch, we were extremely happy with.
We knew coming into the campaign we would be up there fighting at the top of the conference and feel if we can continue in the same vein as the first two game we should be in position to end the regular season with at least a home playoff game, if not our first Prem South title."
Looking ahead to this weekend, the both Head Coach and President emphasised that the Titans are feeling confident coming into this game, despite the bright lights and spectacle of xpLosION.
"Coming into this game we are feeling very confident but are also aware that Birmingham are going to be a tough test. Our prep for the game hasn't changed much from any other apart from the fact we have trained with the addition of trying to simulate the noise that will be present at xpLosION compared to our regular games."
Shared Wheadon, while Coach Salter did note one… unique innovation the Titans tested out in training building up to this game:
"Birmingham are always a strong opponent but we feel we had the better of both matchups last year and really let ourselves down on a couple of mistakes in the loss in Birmingham. Considering our talent on both sides of the ball, I'm feeling confident coming into this one and we've tried to stick to our normal preparations… Though we did have a fully-kitted 25 a side soccer match at training last week."
Ones to Watch
Similarly to the Lions, the Titans did suffer a number of key departures over the summer, including club President and Linebacker Tom Mann, and offensive captain and lineman Harrison Andrews. Still, though their roster numbers are slightly down on last years' total, they feel they've more than made up for it in terms of the uptick in quality.
Coach Salter did not hold back in terms of praise of the wealth of talent the Titans have on offer this year:
"Honestly, it's difficult to know where to start. I'm lucky enough to have a hugely talented group of players but more importantly great characters to work with. I think by now everyone is aware of what Sam Huxtable brings to our offence (4 TDs & 373 yds passing, 1 TD & 176yds rushing), and he's performing to as high a level as ever. It'd be better to talk about our other captains who've maybe been a bit more under the radar the last couple of years:
Gethyn Chadwick plays everywhere on defence and special teams, and has been known to make an appearance on offence. He was our team MVP last year and is already filling the stat sheet this year with 25 tackles, 9 TFL, 1 FF, 3 FR, 1 INT and a safety in just two games. He's the most dominant defender I've seen in my 8 years of Uniball, I'm sure it won't take people long to notice him on Saturday.
Ike Amuze is playing both ways on the line this year after focusing on offence for the last couple of seasons. He spent the summer winning a national championship with the London Warriors and came back better than ever. He's already got two sacks and five tackles for a loss so far this year. You'll see him making plays on both sides of the ball in this game.
Elliot Bodman is in his 4th year as a receiver with us now. He's another player off to a fast start statistically with 200 yards and 3 TDs in the first two games. You'll notice him playing running back, receiver, returning kicks and possibly safety - anyway we can get the ball in his hands he'll make a big play!
I could go on all day, but I'll just mention Ben Cooper, Harry Calton, Daryl Tan, Tofunmi Okude, Ed Welch, Hussain Khan, Canice Gonzague and Dan Marshall who have all played big roles for us over the last couple of years. We've got a load of new starters and impressive rookies as well, but I can't list all of them, unfortunately!"
When last they met…
No need to hunt around the archives for this one, as these conference rivals have become rather familiar with one another over the past two seasons!
The Lions took the most recent meeting between the two with a narrow 28-20 victory that was essential to them securing the Prem South crown, and turned around a shock defeat to the Titans to open their campaign - the Welsh side routing the Lions 48-22 (highlights available via the Titans Facebook page), before Birmingham recovered and went undefeated through the remainder of their campaign.
Overall, the Lions hold the lead in the series between these two teams 3-1 - but might the lead have narrowed when the fireworks have fizzled out on Saturday?
But who's winning this one?
One thing's for sure - whoever comes out on top here will immediately become favourites to hoist the conference crown. Can the venerable Lions continue their resilient start to their Prem South title defence? Or will the Titans loom large under the bright lights on Saturday night?
Let us know your thoughts on who's moving into pole position in the comments, and in the meanwhile we asked our BUCS office to make their pick of who'll be sitting pretty atop the Prem South come Sunday morning - Open the spoiler tab to reveal their choice!
Comments
comments