BAFA NL 2018 | Predictions Week Sixteen – Division Two
With the regular season coming to a close, there are still playoff spots and improved seedings up for grabs across Division Two!
NFC2 North
West Coast Trojans 0-1 Dumfries Hunters
NFC 2 Central
written by Stuart Dick
Carlisle Sentinels vs Furness Phantoms
It's potentially the end of the road for these two organisations as we enter the final weeks of the season. One has a fair shot at making the playoffs, the other has an outside shot of scoring a touchdown - it's a harsh statement, but short on numbers all year long, the Sentinels themselves will likely admit this was a season to forget, finding paydirt just twice in their six outings so far this season.
I personally hope they work hard in the offseason to recruit, develop, and try again next year. I take no solace in pointing out that they have a 6-28 record over their four years, averaging just 5.7 points per game since joining the league.
The Furness Phantoms are currently the #8 seed in the NFC 2 playoff bracket with a 3-4 record, a win should be enough for the Phantoms to secure that final slot in the play-off. If they were to lose, the Clyde Valley Blackhawks would sneak into the #8 spot with a 3-5 record, having conceded less points per game on average. That said, the Phantoms should man-handle the Sentinels to secure a .500 record, and a glorious 632 mile, 11 hour round trip to the undefeated #1 seed Aberdeen Roughnecks, what a prize. As I say most weeks, the Phantoms are the prototypical .500 team in this division, they've but 50-burgers up on their three games against the bottom two sides, but not got anywhere the near the two sides above them – although they did hold Halton to only a four-score win, which has been their best effort against either the Spartans or the Romans.
---
To Carlisle's credit, they've kept on trucking, and that is admirable… But they need to overturn a 54-6 scoreline from Week Eleven to get anything out of this game; I just don't see it happening. Furness take the win and move on to what's looking like a daunting postseason trip to Aberdeen.
Morecambe Bay Storm vs Chester Romans
And as if by magic, a prediction appeared!
Apologies for the delay here guys, something got lost in translation perhaps and this one missed off the slate for Stu - I'll do my best to cover, beyond-last-minute :p - Nick
The Romans march on Morecambe Bay, secure in their rule over the NFC 1 Central, but eager to lock up the second place seed in the North nonetheless.
It's fair to say the Chester side got the better of the last meeting between these two, as the Romans romped to a 77 point shellacking of the Storm. It was a particular low point in all-round rough season for Morecambe Bay, who'd started their BAFANL life with such promise, seeing playoff football in 2017.
Rather, outside two wins over the struggling Sentinels, Morecambe simply haven't been able to keep pace with re-aligned outfits Chester and Halton, and even allowed the rebranded Walney Terriers, who they bested in the lone meeting between the two sides in 2017, to have their wicked way with them - the Phantoms posting #50Burgerrs in both meetings between the young programmes this summer.
The Storm join an uncomfortable collection of outfits that have allowed more than 300 points this season, and it's likely that totals only going to grow this weekend. Morecambe put up a nice number of points against Carlisle in Week Fourteen, but Chester have been the cream of this conference all season long and even if they're repping some depth, it's still going to be a big ask for the west coast side to make this competitive.
---
Don't look for the same sort of numbers we saw last time - the Romans will likely be resting some key players early with their postseason credential already confirmed, but this should still be a comfortable march for the Romans. Morecambe should look to get some scores on the board, before rebuilding for an improved 2019 campaign. Romans to win.
NFC 2 South
written by John Brady
Knottingley Raiders vs Lincolnshire Bombers
This final game for both teams this week, and with something at stake for both sides - Knottingley hoping to dodge the donut in the W column, while it's win and in for the Bombers - a 4-4 record enough to edge out the Railroaders into the seventh or eighth seed in the north.
Lincolnshire have hit their stride late in this season, with three solid back to back wins, each time averaging around 40 points. After receiving drubbings from Staffordshire and Birmingham (similar to most teams in the conference), they turned their season around, and will look to break even with this game to try and end the season with a 4-4 record. The last time they faced Knottingley, at home, they took the W with a strong 39-17 performance, something they will hope to repeat in this game.
Knottingley haven't had the best season, to say the least. They've struggled to keep up with high powered offences like Birmingham, Staffordshire and Lincolnshire, and have only a tied game with Humber as reward for their efforts this season. Despite this, there have been signs of development, with their last few games showing they can consistently at least put afew points on the board.
Their last meeting with Lincolnshire was their highest scoring game of the season, which proves that they can score against the stronger teams in their conference, and they come into this game looking to earn their first win of the season, or at the very least have another competitive outing.
---
Despite this, it's likely Lincolnshire will win this game. They've proven that their offence can run over unprepared teams and shootout with playoff-bound outfits, so it's probable that they'll be coming back from Knottingley on Sunday with one final win to end their regular campaign, while crushing the postseason aspirations of the Railroaders, to boot.
SFC2 West
written by James Ogier
Cornish Sharks vs South Wales Warriors
The Sharks come into this one off the back of their own little winning streak, having bested the Raptors at both times of asking. They certainly didn't make it easy for themselves, on both occasions forced to come from behind against the Raptors, before their greater resilience shone through to take the Ws in the fourth quarter. A consistent ground game held the key to victory in both games and so the Sharks will continue with their running game and hope that it's hard enough to fight their way through the tough Warriors' D.
Meanwhile, the Warriors have taken the crown as their own, meaning they are SFC 2 West Champions! Despite a close game against the Trojans in round one, their second outing against the Trojans looked somewhat different as the Warriors finished 42-0. A scoreline like that is impressive in its own right, but when you realise that they achieved it with their starting QB out for most of the game and their starting RB, Josh Hughes, still out, it really adds credit to the win. All three parts of the team worked well to show why they need to be out of division two. On offence, QB Dean Jackson went down early on, but the Warriors had a back-up plan in David Pruett.
Pruett stepped took on quarterback duties, despite having been retired for the past two seasons…back when the Warriors were still in the Premiership! Pruett managed to earn the Warriors three touchdowns. On special teams, the South Wales unit continued to be a threat as Warren Coombes managed to return a 70-yard punt for a touchdown in the early parts of a game. The South Wales Warriors' defence showed why they were the number one defence in Division Two (they also boast lowest PAPG in the whole of the league) with their fifth shutout of the season - and a cheeky pick six from Daniel Dacey!
With the Warriors sitting at 7-0, crowned champions and having secured a place in playoffs, I don't think they'll be overly concerned about the Sharks. They'll likely use this opportunity to give all their players game time to prepare them for the upcoming playoffs.
---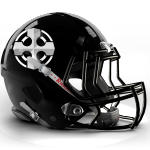 These two teams are very different and due to how strong a season they've been having, I can only see Warriors coming out on top. Warriors to win.
Jurassic Coast Raptors vs Worcestershire Black Knights
The bottom of the table, Jurassic Coast Raptors will be hoping that they'll be able to scrape their first win since they first played the Black Knights in April last year. The Raptors have been cursed with injury this year, losing some key players and forcing many to step up to play iron-man football when needed.
The last time these two met, in their first game of the season, the Raptors managed to punch in 12 points and will hoping to build on this from last game. The games against the Sharks have been their closer matchups and one hopes that these have provided their team with more confidence going into this fixture. This will be their last game before they move to their swanky new home at Avenue Stadium next season, so they'll want to try and finish this with a bang.
The Black Knights had a strong start to their season, but thanks to injuries they struggled during the latter parts. Worcestershire fell to the Warriors and drew against the Wyverns - who they beat comfortably earlier in the season.
Considering they went 2-8 last year, they've definitely made improvement this season and will be looking to show this against the Raptors who they beat in game one. They are still a strong side and with their developing players, they are still a team to watch.
Their tie against the Wyverns in their last outing means they need a win this week to confirm postseason balling, holding onto the 8th seed spot they currently claim.
---
The Black Knights will be looking to wrap up thier regular season on a high, a much-improved 4-3-1 record hopefully seeing them through to their first postseason outing. Black Knights to win.
SFC2 South
written by Patrick McAleer
Swindon Storm vs Bournemouth Bobcats
Sundays sees the end of the season for these two sides, but the Bobcats will be hoping to grab a win and for results elsewhere to go their way, as they try and make it into the playoffs. Swindon will be trying to spoil the party and make up for the 22-8 defeat they suffered earlier in the season in the reverse fixture.
Swindon come into Sunday after having not played a game for a month, due to a postponed matchup with Hastings, which is looking unlikely to be rearranged now. Losing on Sunday would see them finish the season with a lone victory, a disappointing outcome for a team with such high hopes when they sideways shifted into a new conference for 2018. They had an impressive 82-0 shutout over the Conquerors in their last game, scoring 64 more points in that game than they had for the rest of their season. If Storm have finally fixed their offence, then they could be rounding out the season nicely, as they start building for next year.
Bournemouth also had a victory over the Conquerors last time out, as they put 61 points on the scoreboard and will be hoping to get to that .500 that they need to give them a shot at some playoff balling. They're relying on the winless Jurassic Coast Raptors to grab a victory over the Worcestershire Black Knights for them to slip into the playoffs, but they just have to do their own job.
The victory against the Conquerors was a team win, with 25 points coming from special teams, 24 from the offence and 12 from the defence. With scores on defence and special teams from LB's Tom Burn and Sam Williams, DB James Leeland and DT James Walton; it was all smiles on the bus home. Bournemouth are also able to boast some new talent as HB Nathaniel Thatcher picked up his first rushing TD for the team.
Reflecting prior to the game, HC Simon McLean said
"We are looking good for Sunday. Hoping to travel to Swindon with a decent sized squad which makes a change for the last away game of the season. All we can do on Sunday is win, nothing else matters. We are obviously relying on another result going our way but that doesn't matter if we don't take care of business. The Swindon game will be tough, we won the first game 22-8 but it was a closer game than the score suggested and I expect them to be looking for revenge. They have a really good D which means we can't afford to make mistakes. On O they have a good QB that runs the RPO well and if you lose outside contain he will run on you. All round should be a good game."
---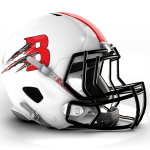 Can Swindon finally move the ball consistently and not just rely on their defence? We'll see Sunday but this week I'm going with the Bobcats, who won the first matchup and know they need to win this time out, while hoping for a Buffalo Bills-level assist from elsewhere on Sunday.
Hastings Conquerors vs Portsmouth Dreadnoughts
There's two different storylines and teams coming into this game: one a team who have battled against the odds all season and have won the admiration of players and fans across Britball, the other a side who are hoping to go onto bigger and better things.
Hastings lost 61-0 against the Bobcats in their last game and will be hoping to go out with a good performance on Sunday, most likely their final game of their season. With their game against Swindon being cancelled last month due to a lack of referees and not being rearranged due to playoffs, it looks like this will be the last time they step on the gridiron for a while. Their defeat to Bournemouth saw MVP performances from Mark Bannister and Ryan Gunningham, who made tackles all over the pitch and Steve Border and Barry Bridgeman, who moved the chains for the offfence even if they were ultimately unable to find paydirt.
HC Steve Cox shared,
"We're looking forward to the last game of the season and are looking to build on the improvements made during the Bobcats game - to see if we can get some points on the board. We recognise the Dreadnoughts are a very good team and we are looking forward to their visit."
The Dreadnoughts come into this one after a heart-breaking 20-0 defeat to the Cheetahs last Sunday, which saw them miss out on their undefeated season and the Championship title. Will they come into Sunday looking to take out their anger on the Conquerors or will they be looking towards the playoffs? Portsmouth had missed and blocked field goals in that game against Herts, and with the Cheetahs scoring late to take the game past the necessary 12 point margin of victory, it could have been a very different outcome on another day.
HC Luke Head-Rapson had time to reflect over the week and said
"No excuses for our performance Sunday against the Cheetahs, they came prepared, executed and took advantage of their opportunities and we didn't, it's as simple as that, they played better and deserved to win. I hope we get another crack at them in the postseason and a chance to prove that we are the team that we were in our first three fixtures against them and not the team we were on Sunday. Going forward to the Hastings game we'll need to refocus and get prepared to secure our playoff seeding and get in the playoff mindset. It'll be a tough game as we'll need to balance the need to win the game and concede minimal points and our need to rest key players for a playoff game the week after, but it's a chance to show the depth we have and the all-around quality of our squad, as well as a chance for players to earn more snaps in the playoffs. I'm looking forward to Sunday and I hope Hastings bring the same heart and effort they've brought to every game so far this year."
---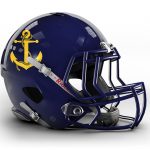 Hastings will be looking for that movie moment and to snatch a win over the playoff-bound Dreadnoughts, but I expect a solid performance and routine victory from Portsmouth on Sunday, as they roll into the playoffs.
SFC2 East
written by Joe Pinkstone
Ipswich Cardinals vs Essex Spartans
Last week saw the Cardinals pull off the biggest win for the club in probably a decade, as they locked up postseason football with the toppling of local rivals, Norwich. The secrecy surrounding this team has been broken for a fantastic cause in the build-up to the team's upcoming fixture against the Spartans, as the season finale is being held in the name and honour of a sadly departed Cardinal, Captain Christopher Butcher.
Last week I plumped for the Cardinals to produce the goods against the Devils and they produced, leaving it close (as always) but getting the result nevertheless. A well-rounded unit, they look set for a run at the best the SFC2 has to offer in the postseason.
If they win this game, they are guaranteed second place in the conference. If they lose and Norwich win, the Cardinals are still guaranteed postseason ball as a top third-place team. A good situation to be in for the team in maroon.
If Ipswich are riding a wave of ecstasy after last week, their opposition this week are sitting at the opposite end of the spectrum. With playoffs a slim possibility last week, a dismantling and humbling at the hands of the Blitz scuppered any aspirations of reaching the postseason. A 50-0 defeat with a weakened team following the fixture's rearrangement put the final nail in the coffin for the Essex team's underwhelming campaign.
---
With nothing to play for it's going to tough for the Spartans to put in the type of performance they'd need to win this one - they're likely to be without key pieces and may well give valuable game time to non-starters in the interest of developing them some ahead of the offseason. The Cardinals have more riding on the game, as they hope to cling on to second place in the East. Cardinals to win.
Norwich Devils vs London Blitz B
Blitz comprehensively dispatched the Spartans last week in an emphatic manner, stomping their way to the conference crown. Currently sat in the #2 seed behind South Wales, the team need only beat the Devils and coast into the playoffs. A loss will likely still keep them in contention for #2 after Portsmouth's loss last week, so defence will be the name of the game on Sunday - hoping to keep the low PAPG crucial to snatching as high a berth as possible.
The team has all it needs to go deep in the playoffs, with a 1-2 punch at RB, good QB play, a swarming defence and a solid receiving core made up of superior athletes to the division's competition. The outfit was a heavyweight going into the season and now appears to be the AJ among its peers, dominant, dismissive and looking almost invincible.
Norwich had their wings clipped and left the field last week disappointed to no longer be able to contest the top spot in the East after being edged out by Ipswich. The team was in contention but ultimately came up short in what could be a crucial game.
Still, they've secured playoffs but will now face a tougher run in the postseason, that effectively begins Sunday when they face the Blitz. Regardless of the Devils' performance this weekend, if Ipswich win the other game in the conference this Sunday, the Devils are trapped in third in the East and seventh in the postseason seedings, which would currently set them up to immediately face London once again in the first round of playoffs! As such, this outing's likely to be very telling about what to expect in the postseason…
---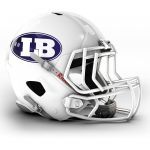 I expect the Blitz to win this one in a similar way to the season opener between these two. The Blitz has to be feeling good about themselves right about now - they are three wins away from promotion to Division One football in 2019!
Comments
comments