BAFA NL Predictions Week Three – Premier
We turn our attention to the top flight with Week Three fixtures taking place this weekend. Edinburgh Wolves enter the foray for the first time this season, as do London Olympians who return to the top tier after a one year absence in Division One.
PREMIER NORTH
written by George Buksmann
Sheffield Giants vs Edinburgh Wolves
The Edinburgh Wolves will kick off their campaign in week 3 against the Sheffield Giants, who currently sit atop the Prem North.
Last season was a mixed bag for the Wolves, they overcame the Merseyside Nighthawks in week 8, 41-36 and gave the Phoenix their closest game of the season, losing 27-20, no easy feat. Eventually, they would finish fourth with the second-best defence in the conference and an offence more than capable of putting up points.
Pre-season, however, has thrown up a few issues, their home stadium has been unavailable since November due to refurbishment. Therefore, the team has been temporarily using the facilities at Heriot-Watt University, "which has caused some consistency issues," said HC Don Edmonston.
Having had so many new players join the team this season the Wolves started their preparation for their second top-flight season with a controlled scrimmage against the Clyde Valley Blackhawks, allowing their new players to get adjusted and ample game time.
Expect the Wolves to lean slightly on their veterans and handful of GB Lions, including LB and defensive captain Ross Young as well as QB and team captain Jamie Morrison, as they shake off the off-season rust, get their new guys up to speed, and attempt to kick-start their season.
The Giants come into this game on the back of a 22-0 shutout win versus the East Kilbride Pirates.
Defences were on top for a large portion of that game, which saw the deadlock eventually broken midway through the second quarter when QB Dan Johnson connected with WR Deivydas Merkelis for a 19-yard score.
The Giants will be hoping that Johnson and Merkelis can continue their partnership going into the Wolves game, as they both joined Sheffield from the Nottingham Caesars.
Following the touchdown, almost immediately, the Giants defence stepped up as Jake Skelton picked off Neil Baptie, Alex Cooper would later extend the lead for the Giants with a field goal, 10-0.
As EKP pushed for a score before half-time the Giants defence would once again come to life as this time Matthew Sheridan came down with a pick. Dan Johnson would again find Merkelis in the third quarter, for a 35-yard touchdown.
With the offence firing on all cylinders, the Giants defence yet again made themselves heard with a safety from Mikey Gray and a late interception for Anthony Marsden as the game closed out.
The Giants have clearly found their groove from the get-go in Week 2 with their offence spreading the ball around, but also utilising the run game. Paired with a lively and hard-hitting defence are we about to see another Big Blue Wrecking Crew established?
---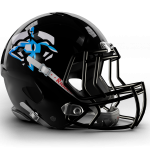 There will be no blowout when these two teams meet on Sunday, but I expect that the Giants momentum from Week 2 to be the deciding factor here as the Wolves get their season going. Giants to win.
PREMIER SOUTH
written by Rose Wilford
Bristol Aztecs vs London Olympians
After a tough loss away to the Warriors in their first game of the season this weekend the Aztecs host the Olympians in their first home game. The Aztecs come into this game off the back of a 55-0 shut-out in a game where they struggled to make big plays. The team also had a few injuries during the game which meant the Q4 was cut 25seconds short to allow one player to receive medical treatment. HC Chris Powles said of the Warriors game;
"No doubt it's not the start we wanted or thought we'd get but that just makes us refocus and look at the areas we need to get better at."
Regardless, the team will have brushed themselves off and will be focusing on the next match up. Coach Powles sharing
'We've had some productive practices since game 1; we have some guys coming back for this second game. I think a lot of teams had a disrupted pre-season with the snow and then the extended Uniball season, and we are among those teams. We are looking forward to starting the home fixtures, spirits are still high about what we can achieve this year.'
The Aztecs face the newly promoted Olympians in a game which could set the tone for the Conference this year, with everyone looking at the Blitz and Warriors as top two teams it leaves the remaining four battling it out for 3rd place.
The Olympians are the 'new kids' on the block in the Prem South - though it's not like they're not familiar with top tier balling having only departed the Premiership in 2016, bouncing right back up again last season.

However, with their sights set on dominating in the conference this weekend's matchup will be a great opening challenge to test themselves against the 'traditional' #3 team in the south.
The Olympians have already seen a taste of what Aztecs football is all about, with many of their players and staff having been present at Bristol's opener against the Warriors. The Os, therefore, have up-to-date footage to work with in preparing themselves for this weekend.
---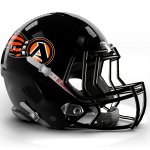 After a few losses in their last season against other Div One teams it'll be good to see if the O's have what it takes to play football with the big boys in the Prem once more. I think this will be a close one, but I think the Aztecs should scrape it
Bury Saints vs Farnham Knights
The Saints took a tough loss on the weekend against the London Blitz, losing 50-0 against the visiting team. This weekend they face a slightly less challenging battle, but no less important, as they host the Farnham Knights. Bury HC Jason Nowlin said
"Obviously we were disappointed in the outcome on Sunday but also know we went against one of the best teams in our league. Overall we need to improve all facets of our game, but we did fight the entire game without giving up."
That is a huge credit to our guys. Right now we are just focusing on our own self-improvements. We know there is no easy game in our league so we need to make improvements each week. We expect a hard-fought battle this week and hopefully we make more plays than they do on Sunday.' Two players who had great games on Sunday were Safety Chase Martin with roughly 10 tackles and 1 interception in the game and WR Aaron Wheatley who led the team in catches.
The Knights begin their season this weekend and know there is an apprehension following their record last year. Having spoken to the team, they believe that they've done enough to better their record this season.
The team have had a few positional coach changes - a number of offensive coaches leaving and being replaced by retired players who are trying their hand at coaching. In contrast, there's been more consistency of the defensive side of things, with same coaches in new roles and also adding a few new names.
The Knights have been putting in the work in the preseason, Team Captain Steve Price telling DC:
"The playbook has expanded 4-fold with loads of new looks and clever trick plays that no one will see coming. There was obviously a massive learning curve associated with the changes but our starters are at the stage now where they get it. Defensively, nothing has changed from last season. This has been a blessing as it's provided our guys more time to habitualise the scheme, continuing in the learning from last season."
The Knights held a preseason scrimmage against the newly promoted Div One team, the Wembley Stallions, although the score may have been closer than the Knights would have liked! Yhey managed to score 20 unanswered points on the Stallions, but stumbled slightly in the late game to ride out with a win 20-13.
Price said in terms of players to keep an eye out for,
"Aleksi Mäkerell has been a prominent figure so far, his quick thinking on the field and passionate motivational speeches have really lifted the squad. He's definitely one to watch, which won't be a tough task as he is one of three of our team playing Ironman football this season.
New Running Back, Chris Peacock, has really impressed and we are genuinely excited to see him smashing through DL and LBs in the Prem South this season. Lastly, Rich Balderson, who has been a beast for us the past few years, has continued to smash it on DL and I'm expecting big things from him this season."
Our correspondent was unaware Steve Price is a UK Gridiron Memes founder as well as a Farnham player. We've since been unable to verify any of the information Steve provided. - Eds.
---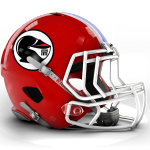 This weekend will give a real glimpse as to how the Prem South will line up. This one feels too close to call but I think I'll give it to the Knights
Comments
comments