Good Week / Bad Week – BAFA NL 2018 Week Four
Another week in the books, full of drama across the Adult and U17 leagues. Plenty of one-sided results too, mind… time for another review of the league structure (we jest, we jest).
GOOD WEEK
Honourable mentions;
Yet to concede a score on defense, the Birmingham Bulls are 3-0 after shutting out the Bombers.
Big win on the road in the Kent 'derby' for Kent Exiles, who hammered East Kent Mavericks.
The London Hornets went against the pundits and put an end to the Gladiators' win streak.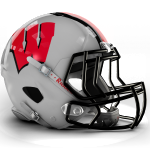 THE COMEBACK KINGS
After gifting the Pirates a two score lead inside the opening 5 minutes of the first quarter, Edinburgh Wolves fought back to overcome the hosts 27-28 and move to 2-0 on the season. The Northumberland Vikings were once again involved in a single-point victory, defeating Lancashire Wolverines 16-15 in a flagfest.
COBHAM COUGARS (U17)
The only team to sweep a three-game tournament at the weekend (yes, we know Mavericks… you also won three, but one was a walkover), the Cougars have come flying out of the gates to start their 2018 campaign. Victories over Bedfordshire Blackhawks, Hertfordshire Cheetahs and Berkshire Renegades puts the Cougars at 3-0. But we don't have a 100% officially confirmed schedule or structure yet, so, you know…

**N.B. Chorley Buccaneers U17s also rocked it on Saturday. We missed it, so belated Kudos to the Bucs too!**
GET THE BBQ GOING, WE'RE DINING ON BURGERS!
A glorious Bank Holiday weekend saw no fewer than five #50burgers across all competitions, with a number of other sides within touching distance of reaching the milestone. Berkshire Renegades put up 54 unanswered points against the Apache, South Wales Warriors scored 50 without reply against the Raptors, whilst Hertfordshire Cheetahs put up a whopping 70 points on the road in Hastings. In the U17 league, Highland Wildcats dominated over Hamilton, winning 52-0, whilst Chorley Buccaneers put on a tremendous display against Chester Romans, winning 50-0. Phew.
Comments
comments