BAFA NL 2018 | Predictions Week Twelve – Division Two
We may have a postponement, with Furness Phantoms and Chester Romans moving their game back a couple of weeks, but there's still plenty of action in Division Two, with both the NFC2 South and SFC2 West playing a full compliment of fixtures.
NFC 2 North
written by Matthew Davies
Aberdeen Roughnecks vs West Coast Trojans
Aberdeen continue to stomp their way through the league season and are chasing the perfect record. So are West Coast, but in reverse and this weekend both teams will take a step closer.
The Trojans have struggled for players all season long and injuries have continued to take their toll. They've been recruiting, but it's tough to reinforce a roster midseason, and while on the receiving end of increasingly heavy losses.
Aberdeen have proven to be the class of this conference, seeming to only grow in confidence as the season goes on, while in contrast it may well be a big ask for the Trojans to even put together enough of a squad to finish out this fixture - we're hearing numbers as low as nine active/healthy players available for this weekend.
Eager to dodge the drop to associate, they'll field a squad if they can, but even Britball has to draw the line at heading to a game with less than a starting eleven!
---
Aberdeen to win (Honestly? Possibly by forfeit.)
NFC 2 Central
written by Stuart Dick
Furness Phantoms vs Chester Romans
NFC 2 South
written by John Brady
Staffordshire Surge vs Birmingham Bulls
This game looks to be the one that will decide the season, between the only two teams with currently unbeaten records in the conference.
Staffordshire have come out firing under HC Jon Wyse with six wins so far in their season, with a tasty Fifty Burger against Humber in Week Two being their scoresheet highlight. With a game in hand they have the highest scoring offence in the conference, with a staggering 212 points (averaging at 35 points per game), as well as having a rock-solid defence that's let up the least amount of points in their table all season. With only home and away games against the Bulls standing between them and the title of Conference Champions, they'll be hungry for the win.
The Bulls are nipping at their heels in the tables, however, only a game behind them with three shutouts on defence. While they've yet to eat a Fifty burger this season, they've still scored a tasty 32.2 points on average in each game, while only the Lincolnshire Bombers in Week 8 have given them much trouble on defence, coming the closest to taming the Bulls in a thrilling 42-39 game.
Both teams are coming into this game with playoffs, promotions and points in mind, and both have the ability to end each other's unbeaten records with this game.
---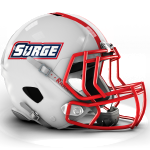 It's a close call but I have to give this to Staffordshire, as they've scored more points on average, as well as letting in fewer points all season with a game in hand. However, this one could go either way.
Humber Warhawks vs Knottingley Raiders
From the top of the conference to the bottom, as we now go to two teams get to have a W on their scoreboard.
Knottingley have had a tough time of things game wise, with 4 losses to the Bulls, the Surge, Crewe and Lincolnshire. They showed signs of life against Staffordshire and Lincolnshire, putting up points against strong teams, however, their games against Birmingham and Crewe were offensive shutouts. Expect them to use this game to moralise their players, and for them to come into this especially eager to etch a W on their scoreboard by the end.
Humber have had a similar go of things this season, having only scored 1 touchdown all season! Their two games against the dominant Staffordshire Surge gave them over 3/4 of their points scored against them all season, and home and away losses to Crewe have also taken their toll. They will be looking for this game to provide their rookie-heavy team with their first win of the season, and help boost morale in the process.
---
This game is likely going to be the best odds both teams have of getting a win this season. However, I'm giving it to Knottingley, on the basis that they've scored more points in their four games while letting in slightly less (only one TD in it). Expect this to be a close run thing, however.
Crewe Railroaders vs Lincolnshire Bombers
The Railroader's fortunes have certainly turned around, going from a 1-9 team in the 2017 season to a currently 3-3 team with two games left in the season, making it seem like their organisational reshuffle has paid off. Their three losses have come from the conference leaders, the Bulls and the Surge, while their three wins have been decisive ones over Humber and Knottingley, even earning shutouts against Humber in Week Six and Knottingley in Week Eleven. They'll be looking to strike positive and end this season poised to aim for playoffs next year.
Lincolnshire have proven to be a tough team to keep down. Despite their 1-4 record, they've come the closest out of anyone to ending both Birmingham and Staffordshire's winning streaks, particularly in Week 8 against Birmingham. Their offence, in particular, has proven they can step up to the mark, with a very respectable 102 points scored this season. They will be looking to take their week off to drill their defence, and their offence will come into this game in search of an easier target than the fortresses of Birmingham and Staffordshire.
---
Although they have the weaker record, I'm giving this one to Lincolnshire. Although Crewe will no doubt test their defence, I think their offence will carry them to the win.
SFC 2 West
written by James Ogier
Torbay Trojans vs South Wales Warriors
This is the big one! This game will the first of two which will likely decide who will be crowned conference kings. The Torbay Trojans would have been watching the South Wales Warriors closely for some time now and it's safe to say that they won't be underestimating their abilities. On paper, the Warriors are the better team, boasting 218 PFPG and 6PAPG compared to the Trojans' 140PFPG and 23PAPG. One must take into account that whilst the Trojans are 5-0, they haven't been playing their best football and they have matured well over the five games. It seems that it all came together at the right time against the Sharks where they came out with a 64-0 (also the same as the Warriors' latest outing against the Sharks) and all facets of the game were efficient and dominant.
On Sunday, the Torbay squad showed what a serious threat they can be. The Trojans have been known this season for their power O game and this was evident with the likes of Adam "AK" Kevern, Chris Robson Close and James Lunt once again hitting the endzone. Nippy Kieran Calvert showed that the Trojans can move away from the norm as he scored a 40 yard rushing touchdown, whilst bouncing off the two sidelines as he easily dodged the Sharks defenders in his first run of the game. Not letting the run game get all the glory, both QBs, Adam Hines and Kieran Hopley connected with Ben Jenkins for six.
The defensive line has been the strongest area for the Trojans and it was no different on Sunday. With 8-9 healthy players to choose from, they were able to rotate their line enough that they remained a constant threat to the Sharks' O. Once again, putting Lewis Bowns and Jonathan Edwards on at the same time made their opponents line look like a swing door - backed up by Bowns' two safeties that he managed to accumulate through the game. Having Tyler White swap to the dark side of the ball from WR to CB helped keep the Sharks' passing game at bay. The Sharks game has always been a huge rivalry for the Trojans and before this season, they had never beaten the Cornish side so doing it twice in one year is a great feat. After the game, a few players who have 'been around the block' had shared with me how they've been fighting for that 'elusive win' over the Sharks for almost ten years - so many happy faces (munching on scones with the jam on top) all round.
GM Richard Christian spoke with me about the South Wales Warriors match and how he's looking forward to seeing what his team is really capable of:
"We're VERY excited to play the Warriors. Regardless of the result, it's going to be a great test for all players and coaches to play the top team to see how we deal with the pressure. It's going to be exciting on and off the field".
The Warriors recently played their second leg against the Black Knights and any who were expecting anything different were gravely mistaken as the Warriors beat them 48-0 for the second time this season. The Warriors' D started as they meant to go on with an aggressive display to force a punt and allow their O to work their magic. As usual, Josh Hughes was dominant in the game, giving the Black Knights plenty of yardage, touchdowns and a sprinkle of two-point conversions. QB Dean Jackson gave his teammates opportunities to get on the scoresheet by connecting with Josh Hurford, Lawrence Tuckett and Bevan Murphy.
The Warriors have been dominating this season on defense. Having not allowed any opponents in their endzone at all in their last four games. Like the Trojans, they started slow this season, but that lull only lasted a single game.
Speaking to Coach Geraint Roberts, he's expressed how the team are excited for this fixture, but understand that the Trojans won't give them the W easily:
"We're looking forward to the challenge of Torbay this week - especially with what is riding on the result. We've been impressed with what we've seen from them this year and it's a great testament for all the hard work they've put into building a strong team. Whatever the result, we hope it's a good game of football."
This will be an amazing match up and I'm really struggling to pick who I feel would win. Both have incredibly strong defenses. Knowing how talented many of the younger Trojan players are, I feel that they may just be able to edge the Warriors out.
---
Last time I counted out the Warriors, they won…and won BIG! So don't be surprised if they turn it in their favour and show me up for the second time this season! Trojans to win.
Worcestershire Black Knights vs Somerset Wyverns
Worcestershire will be licking their wounds after two heavy defeats at the hands of the South Wales Warriors. Despite looking quite strong earlier in the season, the Black Knights looked like a different team against the Warriors. Whilst I believe that the Warriors are the much stronger unit, the Black Knights have been subject to quite a bit of injury and other commitments that have been affecting the quality that they can play at. In their last game against the Warriors, quite a few players had to get used to playing on the other side of the ball.

The Wyverns are coming off their third victory which puts them at 3-3 - impressive considering they're a rookie unit. The Wyverns went up against the Raptors and left the field with a 28-7 win. Like last week, the Wyverns are currently missing key players meaning that opportunities for the less experienced players are now available for them to make a name for themselves. The Wyverns do have some strong defensive players in the box and hopefully they're available for this fixture.
On this fixture, Head Coach John Chambers has enjoyed getting all of his players game time this week and is hoping that they can all use this game to see how much they've improved:
"We're happy with 3 and 3 right now. It was a good game to get more people game time last week and hopefully they have gained some confidence going into this game. I hope the scoreline is closer than last time we met. It's not about chasing the title, but getting all players on the pitch and having a positive experience this season. We're looking forward to the game as it will be a good gauge on how much improvement we have made."
---
The last time these two teams met, the Black Knights showed me up and beat the Wyverns 34-6. I feel that while the Wyverns have made improvements and will be able to be more competitive, the Black Knights will still come out on top. Black Knights to win.
Jurassic Coast Raptors vs Cornish Sharks
This game will be a relief for these both teams. Both are currently sitting at 0-5 and this means that at least one of these teams will come out with their first victory of the 2018 campaign.
The Sharks on Sunday against the Trojans did make mistakes regularly on O and D, but something that can be said about their squad is their reluctance to give up. Due to the Sharks being in a 'rebuilding year', the Sharks aren't necessarily focussing on the wins at this stage. Head Coach Brian Smallworth is giving his team small targets during a game in order to find their own success. As I said in previous articles, their QB, on Sunday, showed a lot of potential and talent, but with the OL struggling to keep defenders at bay, he wasn't able to make the right decisions.
Similar to the Sharks, the Raptors are also struggling with lower numbers than the average team and a collection of injuries. Their game this past weekend had them facing the Somerset Wyverns for the second time. Whilst the overall result was another loss, this one did hit the Raptors so bad as they allowed 14 less points than their previous encounter. The Raptors are used to playing Ironman football and I expect that their fitness and skills have perhaps improved as a result.
---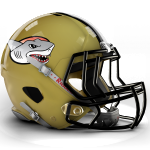 This will be a positive game for both sides who have had difficult seasons. I'll be honest, I think this game will be close and I may be shown up with this fixture, but I'm going to pick the Sharks this week. Sharks to win.
SFC 2 South
written by Patrick McAleer
Hertfordshire Cheetahs vs Bournemouth Bobcats
The Cheetahs were the victor in the first meeting between these two sides, as they have been in every game this season, and head into Sunday with their eyes on Division 1 and the perfect season. Bournemouth meanwhile had another game of what could have been last time out, after nearly toppling the undefeated Portsmouth Dreadnoughts.
In the Cheetah's last game they closed the shutters and stopped the Storm dead in their tracks with a 34-0 win. The tandem duo of QB Martin Brown and WR Rowan Huggins punished another defence, and I'm sure Swindon will be glad to see the back of him, while Martin also had a lunging touchdown run. The other sides of the ball made plays too, with a punt return from Conor Wilson and interceptions from Jordan Legge and Charles Kahonde to complete the strong team win. It was this Bournemouth side that last put points on the Cheetahs defence, as they have had two shutouts in a row, which was helped last time out by DE Kayode Sampson getting 3 sacks on the day.
At this point of the year HC Craig Barnes has high expectations of his team, as he should, and this week said "it was a decent result against Swindon, if a little functional. We have seen Bournemouth's performance against Portsmouth, and this Sunday is an opportunity for us to put a significant marker down. I want to see our offence score rapidly and frequently, and for our defence to shut Bournemouth out. We can't afford to concede any more points."
Bournemouth meanwhile come into this one after leading the Dreadnought 9-8 in the 3rd quarter, before a comeback by Portsmouth, helped by two Bobcats colliding on the play which allowed the Dreadnoughts WR to score untouched. Bournemouth's flying Frenchman Titi had a 90 yard kick return brought back for holding, which would have been the perfect reply to the Dreadnoughts scoring, but unfortunately it wasn't meant to be for the Bobcats on the day. Their defence, anchored by DT Paddy King, made it difficult for Portsmouth all day and I expect to see more of the same on Sunday in a high paced affair.
HC Simon McLean this week said "it's just been one of those seasons where we are very competitive but just can't get that one play or call to go our way. We feel like we can be competitive against Cheetahs and have a chance to win. It will be a tough game, but felt we were right with them in the first game. They have their main RB #30 back, he wasn't available in the first game, so we expect to see a lot of him. Should be another tight defensive battle."
---
So we have one HC who is looking to lay a marker and make a statement with a game against the Dreadnoughts coming up and we have another who is looking for things to click and for their defence to keep them in it. We'll see on Sunday which happens but I'm picking the Cheetahs this week and can see a dominant performance ahead.
SFC 2 East
written by Joe Pinkstone
Essex Spartans vs East Essex Sabres
The Spartans have been a force as of late, staying competitive on the back of a sturdy defence, headed up by a skilful and well-drilled D-line that limit offences, provide a pass rush and stuff the run. The issue has been they have fallen the wrong side of a couple of tight games – Norwich and Ipswich – which, in such a tight division, has cost them precious points and places.
A quick look at the league table will reveal that had they won them games they would be sitting second in the division. Going into the year I had them as the second best team, with the potential for playoffs but those losses could be costly.
Assuming they win out and beat the Cardinals and this week's opponents, they will need a helping hand, including two Norwich losses (they do still play Blitz B) and a better margin of victory against the Cardinals than the first leg – a 15-14 early season thriller. What they do have on their side, is they have two games left, and not one of them is against the much-fancied Blitz.
The Sabres come into the game after a beat down from London made it five losses on the bounce. That makes them sound worse than they are, as many of those losses have been very close.
The team is solid and strong, no weaker or better than the others around them in the table. A few enormous defensive linemen sure helps at this level, where offensive guards often struggle their fundamentals. Though the loss of American QB Mike Muldoon has certainly slowed their offence, overall the player talent is there, and a few offseason additions may be needed to get them to playoffs next year, as it is realistically gone from sight for 2018. A shame for a decent team.
---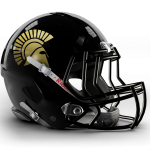 This is not a dead rubber, but it isn't far off. The Spartans have the better record, the belief in something to play for and they edged the local derby by one point last time out. Spartans to win but not by much, do not take the Sabres lightly.
Maidstone Pumas vs Norwich Devils
The Pumas have not been playing good football this year. Every week I hope they will do well and every week I get told I'm perhaps, maybe, a tad harsh. As such, here are the facts with no semblance of opinion attached.
There are eight teams in Division Two with 0 wins. They are: Maidstone, Hastings, Jurassic Coast, Knottingley, Cornish, Humber, Carlisle and West Coast. The Pumas 15 points scored makes their offence the 3rd worst in football. The 220 against gives them the 5th worst scoring defence (I see you Morecambe) to boot.
Anyone thought of a fourth tier of football? Enough here for a league, the NFC2 North only has four after all. Away game travel might be difficult though. This is not good and they need some work.
On to the Devils. Their fate is in their own hands, if they beat Ipswich and Maidstone then second place is theirs, I think anyway – those of you with more time on your hands can check that for me. This'll make the game against London an easier proposition, with them taking first place if they can overturn the 38-20 L in opening week.
The Devils played the Spartans the last time out and made an absolute meal of it, but they won. If the match report is anything to go by it may well have been the longest football game ever played, with succinct note-taking apparently yet to make it to East Anglia. Devils seem balanced in offence and defence, and have stood up well against equal opposition, with the potential banana skin this season now looking to be the Old-Farm derby in two weeks' time.
---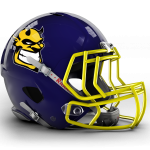 Devils to win, and expect them to try and bolster their Points For column substantially.
Comments
comments