BAFA NL Predictions Week Seven – Division One
Following another successful BAFCA convention last week, the BAFA National Leagues returns to action with a large number of games in Week Seven. All games will hold a minutes silence prior to kick-off in memory of Charles Mack of the Cambridgeshire Cats and CEO of Britballerz.
NFC1 North
written by Nathan James Sharrocks
Lancashire Wolverines vs Leeds Bobcats
Lancashire finally got one in the W column last time out, with a big win over the Gateshead Senators, despite having some key players missing through suspension. With Jasper Kelly and Hertfordshire Hurricanes' James Schofield sharing the QB duties, they romped home, taking the pressure off somewhat as they head into a game that should be simple on paper.
The Leeds Bobcats have struggled in their two games so far, putting up just 6 points whilst conceding 51. They have to get their offence firing if they're to have any success in division one.
Can they do it this weekend? Unlikely. It's going to be a tough trip over the Pennines for the Bobcats, with the Wolverines hungry to go over .500 for the first time this year. The Lancashiremen need to shore up the defence somewhat, having conceded the second most points in the conference, but they'll take this as a great opportunity to do so.
---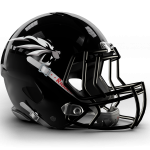 Lancashire Wolverines to win
Yorkshire Rams vs Gateshead Senators
The Rams go again, looking to keep that perfect defensive record alive, having conceded no points in their two games, whilst notching up an impressive 41.
They're looking like the conference favourites early on and they'll be looking to stamp that authority down in this game against a Gateshead team that looks desperate for a W.
A tie and two games lost by a point each will hurt any team, but add that to a 44-22 loss and Gateshead will be grateful for any kind of reprieve.
So it's unfortunate that they come up against the conference leaders who look unlikely to let slip their position this time out. With a firing offence and a solid defence, the Yorkshire Rams will take this one and add to the Senators' misery.
---
Yorkshire Rams to win
Glasgow Tigers vs Northumberland Vikings
Glasgow welcome Northumberland across the wall for a matchup that could be incredibly tight. 2&1 hosts 2&0 with neither offence firing on all cylinders, with the Tigers having put up just 11 points per game and the Vikings unable to break away from opponents, winning both their games by just a single point.
This game will be a huge opportunity for both of these teams to shore up some defence, cut loose on offence and turn out a big win.
The Vikings' short passing game has been working for them, with their talented receiver corps able to chew up the grass for those vital yards after the catch, whereas Glasgow's run game has been strong. Watch for both teams to continue this trend in the early sections of a cagey game here, but I can definitely see this one being higher scoring than both teams' previous games, when one breaks away and the other has to chase.
---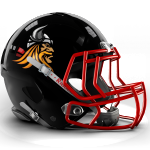 Who will that breakaway team be? Tough. But Northumberland. Northumberland Vikings to win.
NFC1 South
written by Grant Dean Lawless
Nottingham Caesar vs Leicester Falcons
Nottingham host the Leicester Falcons and although they managed to pick up two wins against the Coventry jets, it didn't make for great viewing. Caesars adopted their pass game and came out attacking the flats rather than the long bombs they've been attempting the past few years.
There's not much to say about Leicester that hasn't been said. A large squad, plenty of talented depth at all positions. I don't see them having to get out of second gear. A team that would probably be competing if they managed to make it into the Premiership last year.
---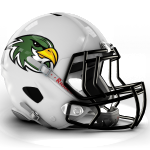 This one should be a repeat of their previous fixture. Another shutout win for Leicester!
Coventry Jets vs Sandwell Steelers
Coventry are back at home this week and will be buoyed by getting their first score of the year against the Caesars. That said, they are entering game five still without an offensive score. With an apparent lack of depth at QB, the Jets need to keep Southall protected if they have any chance of getting a score.
Sandwell have been competitive so far this season. Beaten the mediocre and went toe to toe with the Falcons. They showed against Doncaster, that when they target WR Lawrence, they are money! Expect more of the same.
---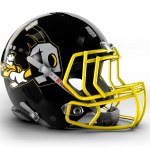 Sandwell are far too strong for a Coventry Jets side that would be better suited to the third tier.
SFC1 Central
written by Chris Fox
Sussex Thunder vs Oxford Saints
Now that looks more like the Sussex we used to know. Dumping 26 unanswered points on the Apache by halftime, the Thunder looked to the future and got their depth some all-important playing time. Not that you'd really notice as they piled on another 20 points, conceding just 14. A name that had been conspicuous by its absence from the Sussex Thunder twitter feed made an appearance, Ben "Chuckie" Chuckwu-onu scored three TD on his way to 169 yards. I'm sure the Thunder are happy to have him back and rumbling up and down the field. When asked for comment, Coach Ellis said "It was our best offensive performance so far. However, I expect Oxford to be a far tougher game altogether. We played them three times last year and although we won all three, they were all tough games".
The Saints are on the road again this weekend and, as one of three winless teams in the conference, they need to come home with a W. Last weekend against Solent they had the lead at the half but two quick scores against them on special teams saw the momentum shift and were never able to regain it. There's a reason people talk about "playing to the whistle" and after giving up a TD on a kick-off return because players thought the returner was down, the Saints players will surely know that phrase well by now.
The Saints are another team to have been bitten hard by the injury bug this year, Head Coach Andrew "Snake" Day commenting "All in all we have 22 injuries, 8 of which [sic] are season-ending injuries and the others are couple of month jobs so we are really hurting at the moment. Having said that we are so pleased that we are still able to compete despite that injury count and in fairness we could've and should've won all 3 games so far. Sunday's game against Sussex we will be missing a fair few key players again. The defence has been on fire of late so we are beat up but confident going into the game Sunday".
It also looks like there might be a change of personnel in the backfield, as James Sharples has been named the starter for Sunday's game. This young QB, who spent 3 years as a starter at Oxford Brookes University, has come back to the Saints after a hiatus and looks more dangerous than when he left. This pushes the American Tony Glover back to RB, giving this offence a true vertical threat as well as an incredibly tough to stop run game. It might be time for the Saints to break out that #Marching hashtag.

In the last three years these two teams have faced off five times, and the Thunder were able to walk away victorious from all of them. Their last encounter was a nail-biting 13-12 matchup in Brighton and it would be fantastic if we could see the likes of that again as two good teams duke it out. However, both programmes seem to have taken a step back from where they were last year and it looks like it will come down to who has lost the least. When weighed up like that, I imagine this will be a fairly scrappy affair which sees the Thunder come out on top for the sixth time in a row.
In the last three years these two teams have faced off five times, and the Thunder were able to walk away victorious from all of them. Their last encounter was a nail-biting 13-12 matchup in Brighton and it would be fantastic if we could see the likes of that again as two good teams duke it out. However, both programmes seem to have taken a step back from where they were last year and it looks like it will come down to who has lost the least.
---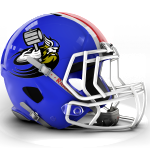 When weighed up like that, I imagine this will be a fairly scrappy affair which sees the Thunder come out on top for the sixth time in a row.
Solent Thrashers vs Berkshire Renegades
Well Solent have had a very different start to their season compared to last year, where they went 1-2 over their first three games and this year they are the only team in the SFC 1 Central to have won all of their games. They fell behind quickly against Oxford in their last outing but a blocked PAT returned for 2 started the momentum swing and a strong team effort in the second half saw them walk away victors. Head Coach Steve Rains, who is in his second season with the Thrashers, is not one to ease off just because they're winning "When you are doing well - which we have been - your opponents up their game in terms of preparation and if you don't match that things can go wrong for you very quickly.
Our Division is highly competitive just as it was last year - this week one of the two undefeated teams are likely to lose that tag (it could be a tie) we are working hard to try to ensure that's not us - but Berkshire have their tales [sic] up and will be a very tough opponent - it will be a great game I'm sure."
The other undefeated side in the conference come into this game on the back of a big win over the Ouse Valley Eagles. Up by a 19-0 score at halftime, the Renegades only conceded a field goal in the second half whilst still pouring on the points to walk off the field victors at 32-3. This will be the first away game for the Renegades of the season and it'll be interesting to see if they can take that kind of dominating performance on the road with them.
Up to this point the Renegades defence has managed to only concede 8.25 points per game, although they're yet to face a high-powered offence this time out they're facing an offence on a league-leading 34.7 points for per game.
This game features two well coached, well drilled, and well-skilled sides and the result will have playoff seeding implications even this early in the season.
---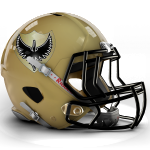 It'll come down to who wants it more on the day, and I believe it'll be Solent who have the x-factor required to get the win.
Ouse Valley Eagles vs Bristol Apache
Ouse Valley's woes continue after a beatdown at the hands of the on-fire Renegades. Player numbers at games have been low so far throughout the season but it's the quality of those that show up that makes a difference. That does depend on someone showing up though, as it looks like no one turned up last Sunday, the Eagles coaches made the decision to give their players a weekend off due to BAFCA. For a team that has been close to victory in two of their losses, could this abandoned practice session be the difference in their upcoming fixtures? From the outside it looks like OVE are not taking their next opponents seriously, maybe they've already circled it on the schedule as a win, can anyone else smell a trap game?
Bristol are very aware that they're being viewed as the weakest team in the conference but that opinion is being formed by people outside the club looking at numbers on a scoreboard. The Apache have dedicated personnel stepping in to keep the wheels turning, especially players like Mike Hall who has been playing iron man football in all games, but that pace is not sustainable and contributes to the big score lines we've seen.
When speaking to chairman James Talbot, confirmed that this week they've got several players returning from injury and praised the big improvements they've made "A couple of our less experienced DBs have showed promise, particularly Dan Ebsworth and rookie Matt Pullen. Ed Green has been his usual hard running self." They did manage to get two scores against Sussex, and although it was late in the fourth it shows the grit and never say die attitude of these players. It'd be a mistake to write them off yet.
This is a must-win game for both teams. Although we're still in the first half of the season, with neither team yet getting a notch in the win column, this could decide who stays up and who heads down in to the quagmire that is Division 2 football. Bristol have been playing with heart and are fielding a deeper squad this week so not to be taken lightly. OVE may have given themselves a weekend off but have shown they are capable of keeping pace with some of the stronger sides in the conference, but need to prove they can win games when they get the chance.
---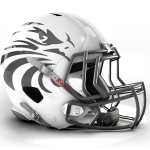 I'll be stumping for OVE to rise to the challenge and collect their first W of the season.
SFC1 East
written by Stewart Hill
East Kent Mavericks vs Colchester Gladiators
A close one this week, both teams suffering hard losses last week, with unforeseen circumstances to blame. Both, however, will not go down without a fight.
After a very tough loss against the Wembley Stallions last week, the Mavericks suffered losing their stating DBs, their passing defence will struggle once again. One thing to look forward to though is the signing of 'stud linebacker' Lucas Deveson from Solent University. Head Coach Glenn Lindley anticipates a great performance from him in his debut, hoping this will aid with the loss of their DBs.
Again the Colchester Gladiators suffered a loss against opponents the London Hornets last week, the amount of injuries doesn't help on their part. With a week off last week, this abled them to rest up and all are hopefully in a better position for the game ahead. As well as this, it should enable their backup QB a chance to get to grips with his offence and lead the team to victory.
With all of this in place I have to side with the Gladiators to win. Despite their previous losses in the past weeks there is no doubt that they are hungry for a win. Although the Mavericks have a home-field advantage, their current streak of 0-3 doesn't look promising. I don't think this will affect the Gladiators in their fight, but rest assured both teams will put up an honourable fight.
---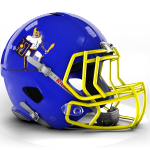 Colchester Gladiators to win.
Comments
comments