Good Week / Bad Week – BAFA NL 2018 Week Ten
Competition galore across the BAFA National Leagues with seven U17 tournaments, six U19 games and another nineteen Adult fixtures. But who stood out amongst all the action?
GOOD WEEK
Honourable mentions
A solid weekend for Hertfordshire Cheetahs, who earned shutout wins at both U19 & Adult level, and a 2-1 tournament record at U17!
Under 17's clean sweeps for East Kilbride Pirates, Chorley Buccaneers, Leeds Academy Assassins, Etone Jaguars, Kent Exiles Rebels and Cobham Cougars
Edinburgh Wolves put on a show against the Nighthawks on Saturday, moving to 3-2 on the season.
The Kent Exiles adult move top in the SFC 1 East with their crucial win over the Cambridgeshire Cats.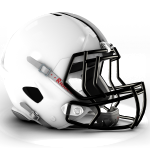 LONDON WARRIORS
Ding ding! Round One to the Warriors in the battle for bragging rights, London supremacy and the lead in the Premier South with a come-from-behind victory over the Blitz. With both sides dominating the rest of the conference, we now wait for 19 August and the rematch to see who will take the #1 seed entering the post-season.
GATESHEAD SENATORS
Ten weeks into the season, and the Senators chalk up their first W with a tense 18-0 victory over Glasgow. Perhaps more importantly for the squad morale, they also registered their first shutout, too. It was a crucial win for Gateshead as they battle the struggling Leeds Bobcats - who they square off against this weekend - most likely to avoid relegation to Division Two.

ABERDEEN ROUGHNECKS
Another solid win for the Roughnecks, a 35-14 win over Dumfries, moves them to 5-0 on the season and all but guarantees them the NFC2 North conference crown. It's early Monday morning, but we think that CVB could still mathematically catch them. Victory over the Trojans in a fortnight would secure the #1 spot.
Comments
comments