BAFA NL 2018 | Predictions Week Thirteen – Division Two
Some crucial fixtures this weekend, with top of the table clashes across the bottom tier - headlined by a southern clash between the undefeated Portsmouth Destroyers and Hertfordshire Cheetahs:
NFC 2 North
written by Matthew Davies
Clyde Valley Blackhawks vs Aberdeen Roughnecks
Aberdeen's win at the weekend secured them the conference title without dropping a game and their hope will be that they can escape from the regular season with a perfect record and take that momentum into the playoffs.
CVB will be looking to spoil the party and finish with a winning record.
Expect a fiery encounter as we've seen already between these two.
---
Aberdeen need to keep their cool and avoid injuries and ejections that could hamper their playoff run but should get out with the win.
Dumfries Hunters vs West Coast Trojans
NFC 2 Central
written by Stuart Dick
Halton Spartans vs Chester Romans
A battle of the top two in the NFC 2 Central this weekend, and one which will undoubtedly decide the fate of the Conference crown. Halton's only defeat in 2018 was a shutout loss to the #2 Power-Ranked Chester Romans, 30-0 in Week Three of the campaign.
Since that defeat, Halton have beaten the Morecambe Bay Storm twice, Carlisle Sentinels and the Furness Phantoms, scoring 163 points in the previous four appearances, while conceding just 25 with two shutout victories. This will be a litmus test for the Spartans to see if they have what it takes to contend in the postseason. The quarterback duo of Tom Everson and Rik Lowthian will face a defence that have conceded just 18 points all season, all in their Week Ten matchup against Furness.
Chester will be looking to maintain an undefeated record at the top of the conference, with this matchup being the only real threat to a 8-0 season. Since beating the Spartans in Week Three they have demolished the Sentinels, Storm and Phantoms in emphatic victories. Quarterback Byron Ward has built a connection with receiver Nathan Jewkes – the pair combining for six touchdowns in their last two appearances.
Their defence did give up their first points of the campaign against the Phantoms, but with the offensive firepower they've shown they should have too much for the #10 ranked Spartans.
---
Chester to win by two scores, but a lot closer than the first matchup.
SFC 2 South
written by Patrick McAleer
Portsmouth Dreadnoughts vs Hertfordshire Cheetahs
With England unfortunately not making the World Cup final, this might now be the most anticipated game being played on Sunday. It's taken 13 weeks for these two sides to finally face off, as both Portsmouth and Hertfordshire come into this one with perfect records and are set to battle it out for the title. With both teams yet to taste defeat, someone's zero has got to go!
Portsmouth last time out had a comeback victory at home against the Bournemouth Bobcats, to continue their winning streak, but will need to up their game on Sunday. Jake Smith made a huge catch in double coverage late in the second half to get the game-winning TD against the Bobcats and they will be looking to him again to make plays against the tough Cheetahs defence. Lloyd Scott was Defensive MVP in that game against Bournemouth, making sacks and tackles at crucial points, so more of the same will be needed on Sunday from Lloyd and the rest of the unit. Portsmouth are able to boast the best defence in the conference. Helped by their wrecking crew of a D line they have conceded 13 less points than the Cheetahs, albeit in one less game, and have only conceded one TD so far this season. The Dreadnoughts will need to keep this standard up on Sunday to stop that highflying Cheetahs offence, but they have the playmakers to do so.
I caught up with HC Luke Head-Rapson during the week, who said
"It'll be an interesting game against the Cheetahs, I expect them to be our toughest opposition this year and a marked improvement from the last time we played them. I don't feel like we played our best game of the season last time out against the Bobcats so we'll need to step our game up this week both offensively and defensively. If we can keep some of their talented offensive players under wraps and keep their running game under control I'm certain we can get a positive result."
The Cheetahs meanwhile roll into Sunday after a convincing statement victory over the Bobcats by a 42-0 scoreline, quite different to the Dreadnoughts comeback victory. The Cheetahs were slow, for their standards, out of the blocks against the Bobcats and were only two scores up at halftime, before Charles 'Chuckie' Handscome got over the line for his first score of the season. He then soon added a second to extend their lead.

The Cheetahs defence then made their mark, with the no fly zone of Ben Brown, Josh Dunnet and Tirell Jeffers creating turnovers galore. This allowed the Cheetahs to add more points, with big screen plays from rookie WR Tom McQuillin and a 90 yard TD from that man Rowan Huggins, however, this was a team score with lineman giving the WR a full military escort, led by Offensive MVP Stuart Butcher, to the end zone.
This week I caught up with HC Craig Barnes, who said
"I hope the watching Portsmouth scout enjoyed the performance as much as we did. They will, of course, be receiving an enhanced version of it. Anyway, we have a couple of slight injury concerns for Sunday, our RB Conor Wilson fractured his ankle and so is probably done for the season. However, Adam Adeniji is available again and hungry to lead the rushing attack. Our defence was tremendous again, we picked Bournemouth off six times. We played on all sides with great physicality, I am looking forward to seeing something similar this weekend. Portsmouth are 5-0 for a reason, however thanks to our scouting we have spotted glaring weaknesses, which we intend to exploit fully. A win in Portsmouth on Sunday will give us a great advantage in the race for the conference title and home field throughout the playoffs. We've averaged 52 points a game this season so far, we're ready to go full-bore."
The injury to RB Conor Wilson will be a huge loss, but not a bad replacement to have, along with Matt Lake, who had 104 yards rushing against the Bobcats.
Both sides have been working towards this Sunday all season, with it circled on the calendar, so I'm excited to see what happens in this one.
At the start of the season I probably would have gone with the Dreadnoughts here, especially after their strong defensive performances, however, the Cheetahs' unit have now had three shutouts in a row. On the other side of the ball, they have outscored the Dreadnoughts offence by 160 points (yes I know they have played Hastings twice but it still counts) and I'm not sure if the Dreadnoughts will be able to keep up with the Cheetahs on Sunday, if it goes to a shootout.
---
For that reason I think it will be a comfortable win for the Cheetahs, as they put one hand on the conference crown.
Swindon Storm vs Hastings Conquerors
SFC 2 East
written by Nick Wilson-Town
Maidstone Pumas vs London Blitz B
No Joe again this week, so we'll try to cover.
Ultimately, tough to say a lot here as top travels to bottom in the East and all expectations are it'll be one-way traffic.
The Blitz may have had more struggles than most would have suspected in their last outing against the Cardinals, but if anything the way the London side were able to turn things around in the fourth quarter to remain undefeated, only goes to emphasise that the Blitz are the class of their conference.
Across from them, Maidstone's off-field upgrades have simply never manifested on the field of play this year. They've at least been finding ways to put up points in their more recent outings, but it's going to tough sledging to continue that trend against a Blitz D that's allowed only 30 points on the year so far.
---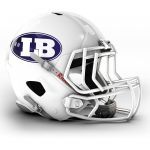 Undefeated versus understrength? Blitz roll to 6-0, while the Pumas will have just one last shot at putting a notch in the W column.
Comments
comments