Game of the Week | BUCS Division One Week Four: Loughborough vs NTU
In line with feedback, we're changing things up a bit this year in how we do our Uniball predictions. One thing we continue to receive feedback on is the inconsistency of the depth and quality of predictions between one conference and the next, due to the available time and ability of the writers that cover each group of teams, and how much information is made available to them.
To that end we're going to shake things up this year and rather than attempting to cover all games with as much detail as possible with the resources available, we're instead going to focus on particular stand out 'Games of the Week' - looking more closely at anywhere between one to three games, spread across the tiers, focusing on those games that perhaps looks particularly tasty and we can go into greater detail in the coverage of.
Loughborough Students vs NTU Renegades
by Stewart Hill
This week's Division One game of the week comes to you from 1A Midlands, where the undefeated 3-0 Nottingham Trent Renegades go up against the 2-1 Loughborough Students.
Two favourites in the conference face off… Will the Renegades remain undefeated or will the Students break their win streak?
Let's meet them and find out…
Loughborough Students
A longtime powerhouse of the British game, the Loughborough programme began its life as the Loughborough Aces and upon entering the league in 88/89, immediately took the British University game by storm - posting up an 8-0 regular season record in their opening campaign!
They won their first College Bowl in 1994/95, with future Head Coach Paul Sherratt named league MVP that season, and would go on to win two further National Titles in 1997 and 2002, making it three titles in seven Championship appearances - their most recent trip to the title game back in 2009/10.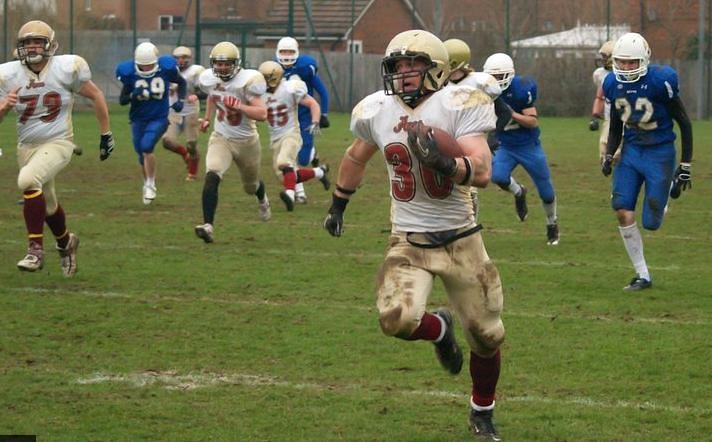 A storied sports University, winning every BUCS overall championship since its inception, it's worth noting however that Loughborough's American Football team receive relatively little support from their parent institution - even after dropping the 'Aces' moniker in 2012 to become the Loughborough Students American Football Club (LSAFC).
As such, while many outfits in the Prem North began to attract scholarship players, both international and domestic, Loughborough slowly began to lag behind in the Prem North arms race - culminating in a 0-8 season in 2017/18, and relegation to middle tier balling - the first time this proud programme has played anywhere other than the top tier of the British game.
Still, so far the Loughborough Students have had a solid season - beating the Leicester Longhorns and the Warwick Wolves, no surprise there.
However, in Week Four they suffered a close loss of 8-0 to their toughest opponent so far, the Coventry Jets. There had been warning signs that the Jets had potential to cause upsets when they sorely tested NTU in Week Two, but despite this loss Head Coach Martin Hilton is optimistic that his team have the resilience to bounce back from the defeat:
'Despite the disappointment, the team has shown such a great spirit and togetherness and that's what you want to see.'
Last season, the Students were in the Premier North division, where they were against a multitude of well-oiled and well-trained teams and their offence in particular struggled - shut out on multiple occasions against a variety of teams.  This hasn't stopped them coming into Division One with a winning attitude, however, as Team President Matt Barnard informed me
"[The team] have come together with some exciting new players, we're looking forward to building on what we've done and pushing each other to get better every day.'
Looking ahead to this weekend, Matt noted that Loughborough are well aware this matchup could be a crucial one for the shape of their season:
'The Midlands 1A division, on the whole, is full of competitive teams which will make you earn each and every win so we know we've got another big test ahead facing a team that already has three wins under their belt.
We've tried to learn the lessons from our game against Coventry, as we always do, and use that game as an opportunity for us to see our strengths and weaknesses. We're going to review film, make our adjustments and come out stronger this week against NTU'
NTU Renegades
The Renegades began their tenure in Uniball as the Nottingham Outlaws - a combined programme drawing students from both Nottingham Trent University, and the University of Nottingham. Playing their first league football in 96/97, the Outlaws surprised many by hitting the ground running with a 5-3 record in their first season, second place in the conference behind none other than the Loughborough Aces!
They won their first Central Division title in 2002/3, under the tutelage of a name more commonly associated with the other team in this matchup - Loughborough Aces star, Paul Sherratt, taking on the Outlaws Head Coaching role coming into that campaign!
However, the law eventually caught up with the Outlaws, when the sport joined BUCS and single-institution rules saw the programme split into the University of Nottingham Outlaws and the NTU Renegades, two teams that would establish a strong rivalry in the coming seasons.
The Renegades initially held the slight advantage through the early years, typically getting the better of the Outlaws when the teams met through the regular season, or in their annual Varsity game, and when the BUCS tiers were introduced the Renegades won back to back conference championships - topping the East Midlands Conference with a 7-1 record in 2014/15, and then the 1A Midlands in 15/16, including earning themselves promotion to the Premiership North where they put in a competitive showing - but ultimately were unable to pick up the wins to maintain their Premiership status.
In their absence, the Outlaws - now University of Nottingham American Football - had developed their programme with scholarship talents, and the Renegades were welcomed back to the middle tier with a pair of heavy regular-season losses to their local rivals, along with a much closer postseason defeat. UoNAF would, in turn, earn their own shot at top-tier balling - off to a fast start so far this season!
With Nottingham moving up however, the Renegades appeared heirs apparent to the Midlands Crown - though the appearance of an old rival in the form of Loughborough, and the rise of the Jets, does look to have made things interesting!
So far NTU have played a fantastic season, three wins under their belt against the Warwick Wolves and the Coventry Jets. Completely shutting out the Wolves it's safe to say their defence know what they're doing. Against the Jets it was a different story, however, winning with just a two-point lead! Both teams played their hearts out, but NTU came from behind to take a narrow lead and held the goal line on the final play of the game to take the W.
With talent coming from some of the top leagues across Europe, combining with their strong foundation of British talent returning, they are a force not to be messed with. Recruitment day brought them over 100 fresh faces ready to taste the feeling of balling out.

Team President Mathew Cutler emphasised recruitment has gone well coming into this season:
"Recruitment fair went well, we kept a lot of the freshers on this year and as I recall, the team is close to being almost 50% freshers this year. There is a big sense of family in the team and has been since the start of the year."
We reached out to captains Lewis Hyde and Natal Melero about how their season has gone so far and their thoughts and feelings about facing Loughborough, here's what they had to say:
"Loughborough are an experienced team with a strong history and we have a lot of respect for them. That being said, our team this year has a number of talented players offensively and defensively.
I expect Loughborough to be physical and aggressive. Our offence is high tempo with a lot of speed, it will definitely be an exciting matchup for us and one that may dictate who the top team in Division One is."
When last they met…
With a storied history against one another, these two teams last shared a conference back in the 16/17 season during the Renegades stint in the Premiership North.
Loughborough edged victories in both meetings that year, though each by exceedingly narrow margins - winning 10-13 in Week Four, and 7-3 in Week Nine.
But who's winning this one?
On the whole, both teams are clearly viewed as a challenge to one another. Renegades have showcased their skills already with a 3-0 record and a large depth of European talent to show for them.
Meanwhile, the Loughborough Students have the more recent Premiership experience and have lured some veteran talent back to their coaching roster this year that may help them out-scheme Trent. I think it's a tough one, but the Renegades have a slight edge in my view… but what do the rest of the team think?
Let us know your thoughts on who's taking the W this weekend, and in the meantime we asked our BUCS office to make their pick of they think have the edge - open the spoiler tab to reveal their choice!
Predictions for all BUCS fixtures are also incoming, they'll just be in a simpler, pick'em style format this season.
Comments
comments